You are here
Scholar explores settlement patterns in Jordan Valley in ancient times
By Saeb Rawashdeh - Aug 10,2021 - Last updated at Aug 10,2021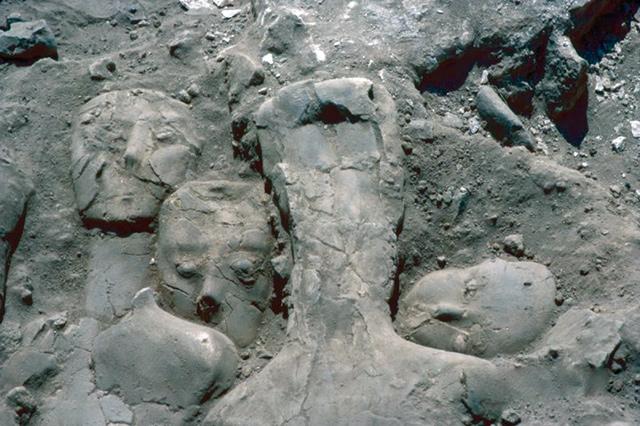 The upper layer of the cache of plaster human statues and busts found at Ain Ghazal in 1983 (Photo courtesy of ACOR/Rami Khouri Collection)
AMMAN — The apparent devastation of settlement patterns in the Jordan Valley and Palestine at the end of the Middle Pre-Pottery Neolithic B (MPPNB ) — circa 8,800-6,500 BC — set in motion a new settlement pattern in highland Jordan that would have important consequences half a millennium later, according to an American anthropologist
"Soon after 7,500 BC, some of the residents of the abandoned villages in the west simply dispersed elsewhere in the region, but evidently a large proportion migrated into the highlands of Jordan, either joining already established settlements such as Wadi Shu'eib and 'Ain Ghazal in the north, or establishing new towns, including As Sifiya, Al Basit, Basta and 'Ain Jammam in the southern highlands, noted Gary Rollefson, professor emeritus from Whitman College, in Walla Walla, Washington.
The abandoned villages were all relatively small, but the new mega-sites were enormous, Rollefson told The Jordan Times in an e-mail interview.
He added that corresponding to site size and housing density, MPPNB populations were around several hundred people, but at the new mega-sites the number of inhabitants ranged between 1,500 and 4,000.
For example, the population of MPPNB 'Ain Ghazal (located near Marka Shamalia in northeast Amman) was estimated to have been approximately 700 to 900 people, he said.
Within only a few generations that number had doubled, he added, noting that the scalar stress on the large community certainly introduced tensions that required fundamental changes in social organisation, particularly in view of the suddenly expanded demand for resources
"One of the most visible changes was in architecture, where multifamily two- [and perhaps three-] storey dwellings arose in contrast to the single-story, single-family dwellings of the MPPNB," he said.
Presumably the co-inhabitants of the new residential structures were members of an extended family, pooling resources as units of economic production and consumption, he added.
"More mouths to feed meant more acreage to farm and more sheep and goats to take to pasture. The distances to new farmland grew over time, which probably instigated some disgruntlement among the newcomers, especially when it came time to transporting harvests some kilometres back to the settlement," Rollefson noted.
Newsletter
Get top stories and blog posts emailed to you each day.