You are here
Scholar goes through Iron Age gates in Jordan
By Saeb Rawashdeh - Jan 30,2018 - Last updated at Jan 30,2018
Khirbat Al Mudayna on Wadi ath-Thamad in 2003 (Photo courtesy of Robert Chadwick)
AMMAN — Khirbat Al Mudayna on Wadi ath-Thamad is located 48 kilometres south of Amman where for decades various scholars analysed the site, including the building history of North Gate 100.
"What makes North Gate 100 so interesting is that it is the best preserved Iron Age gate east of the Jordan River," said historian Robert Chadwick, who received his PhD from l'Université de Montréal where he studied Assyriology.
Its building history is "unique" because the gate went through a number of changes, he continued adding that the gate began as a four chambered, two-storey structure, measuring about 9.5 sq.m, but over time a number of rooms were added to it "eventually making it a collection of 11 rooms".
Six rooms formed the central core of the gate while five exterior, add-on rooms, three on the west side of the gate and tow on the east side, Chadwick elaborated.
"To better understand gates in Jordan starting about 10 years ago I began travelling around the country on weekends [taking a break from my teaching and excavation activities at Khirbet Al Mudayna] visiting every gate I could get access to in Jordan from the Late Chalcolithic/Early Bronze Age site of Jawa [north] in the Hauran region, to the tells of Mudaybi and Murrajah south of the Wadi Mujib down to Tell Kheleifeh near the Gulf of Aqaba," he outlined.
A few Iron Age (1,200-500BC) gates have been excavated in Jordan, the scholar explained, noting that "the Iron Age gate at Tell Jalul, for example, has a very nice gate road, but the actual gate has not been located".
"My colleague Michele Daviau found a gate at Tell Jawa south of Amman back in the 1990s. I worked on it for one season in early 1990s," Chadwick said.
Like most gates in Jordan it shows a local design, not one borrowed from elsewhere, the historian stressed, adding that some have claimed that the Khirbat Al Mudayna gate was part of an Israelite building project during the reign of one of their kings (Omri, Ahab), the scholar said.
Chadwich maintained: "Our excavations clearly show this is not the case and that the gate is of local design."
Researchers so far do not have enough evidence to be sure about the exact number and origin of people who occupied Khirbat Al Mudayna during Iron Age.
"We know little about their origins, but a short inscription we excavated indicates their writing to be Moabite, while their pottery which can be found at other sites such as Dihban is clearly Moabite," the scholar underscored.
According to Chadwick, the site was occupied from the late 9th century BC (Iron AGE IIB) and continuing for several centuries to the late 7th century (Iron Age IIC) BC period.
"Population estimates are difficult to determine, the upper portion of the site measures about one hectare and may have been home to 200 or 300 people," the historian said.
"The population would be larger if we include the areas surrounding the site so there may have been as many as 500 people living in close proximity to the site during peak activity", the scholar elaborated, adding that "we know that wool processing went on at the site so it must have had workers involved in these industrial activities, but how many is difficult to say".
"There may have been a mobile pastoralist population as well that only spent part of the year at the site before moving on," Chadwick noted, adding: "Any population estimates given here are subject to reevaluation as new data becomes available."
Regarding future plans, Chadwick said he is currently working on a book about the gate and its defensive system.
Related Articles
Aug 20,2019
AMMAN — Iron Age imports from Egypt, Cyprus, Phoenicia, Syria and Assyria indicate complex economic and political relations between Moab and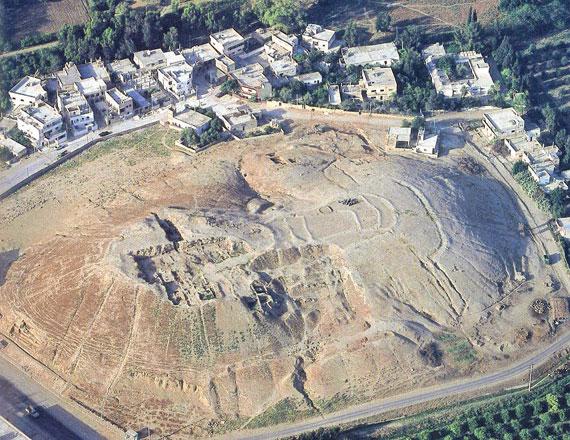 Jun 16,2019
AMMAN — New finds at Tell Deir Alla in the Jordan Valley contradict previously published results that the north side of the site was used fo
Jan 16,2018
AMMAN — A group of researchers who explored the site of Tell Al Umayri, 12 kilometres south of Amman, has found a small table or "platform"