You are here
Scholars study settlement in Jerash in Middle Islamic period
By Saeb Rawashdeh - Sep 22,2019 - Last updated at Sep 22,2019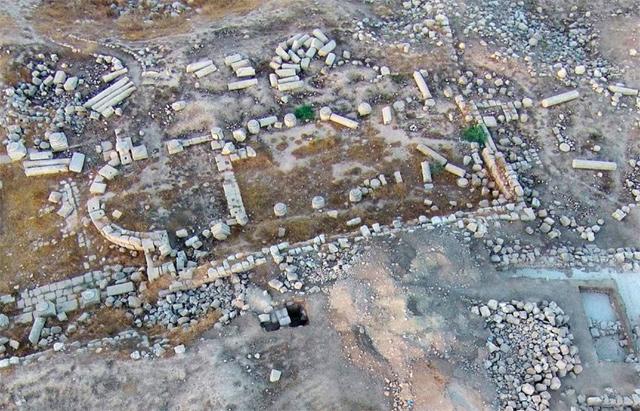 Drone photograph of remains of a church in Jerash (Photo courtesy of the Danish-German northwest Quarter Project)
AMMAN — The settlement in Jerash (Gerasa) during the Middle Islamic period was much more extensive and complex than hitherto thought, said a Danish archaeologist.
After a devastating earthquake in 749, Jerash was depopulated and it became resettled only after the 12th century, said Professor Rubina Raja from Aarhus University in a recent e-mail interview with The Jordan Times, adding that it is, however, still unclear how many inhabitants lived in Middle Islamic Jerash (9th century - 15th century).
"The period remains understudied – despite our excavations," said Raja, who is the co-director of the International Jerash North-West Quarter Project, which since 2011 has conducted excavations on the site of the ancient city of Gerasa.
There are only few publications on Jerash in the Middle Islamic period, said the scholar, adding that in 2018 she and her colleague Achim Lichtenberger from University of Münster edited a book titled "Middle Islamic Jerash: Archaeology and History of an Ayyubid-Mamluk Settlement".
"What we can say is that there seem to have been several clusters of settlements in Jerash in the Middle Islamic period, but their organisation needs to be studied in more detail. This is something which we hope to be able to do over the coming years of fieldwork," Lichtenberger told The Jordan Times in a recent e-mail interview.
Raja noted that the northwest quarter of the ancient city displays a set of buildings belonging to the Middle Islamic period, both of representational and pure functional uses.
"It seems as if the conglomerate of buildings were tied to each other and that some were used for living, and others for production and storage — most likely also relating to agricultural activity, which would, among other places, have taken place on the north side of the north-west quarter," said Lichtenberger.
Turmoil caused by the Crusades and Mongol invasions is characteristic for the Middle Islamic period, he said, adding that it is unknown exactly which political factors led to more extensive settlement in the Jerash after the 12th century.
"However, of course, a more stabilised situation must have been in place in order for the society to construct and resettle more than one part of the site as well as to organise the agricultural activities needed to be more or less self-sufficient," Raja noted.
Newsletter
Get top stories and blog posts emailed to you each day.