You are here
School dropout-turned-social entrepreneur brightens vulnerable youth's future
By Camille Dupire - Sep 07,2017 - Last updated at Sep 07,2017
Saddam Sayyaleh is seen with children from Ilearn. The non-profit initiative works to establish safe spaces for disadvantaged children and youth to encourage innovation, intellectual growth and critical thinking, according to Sayyaleh (Photo courtesy of ILearn Facebook page)
AMMAN — Jerash-born Saddam Sayyaleh could have easily fallen off the grid after the orphan dropped out of school when he was a teenager.
However, it is a successful and motivated social entrepreneur about to attend the UNESCO Youth Forum in Paris as the only Jordanian invitee who told The Jordan Times about his non-profit initiative "Ilearn".
Launched in Jerash Souf camp, some 30km north of Amman, in 2012, Ilearn works to establish safe spaces for disadvantaged children and youth to encourage innovation, intellectual growth, and critical thinking, Sayyaleh said.
"As an orphan who grew up in a refugee camp and was often abused both physically and mentally, I understand what it is to be undermined by adults who misuse their authority," the 26-year-old explained, adding: "I wanted those children to know that there is someone out there thinking about them, someone who wants to change their reality as much as they do."
Through informal education, youth volunteerism, and local and global partnerships, Ilearn has grown to serve some 12,000 people in eight "knowledge places"spread across Jordanian and refugee communities in less than five years.
"We chose 'space for knowledge' as our slogan to show vulnerable youth that they can find a space where they have the opportunity to access education, to dream and look up to their future in a different way," Sayyleh said.
Based on a three-pillar model that encompasses youth support, community engagement, and child development, Ilearn is above all centred around the needs of the children.
"Since I didn't have a father or a mother, I developed my own learning methods, so when I got to school, there was a clash with the teachers' methods. My academic achievements started going down, and my interest in school as well," the young entrepreneur recalled.
He added: "Because the school system didn't realise I was different and I learned in a different way than the rest of the children, combined with so much socioeconomic pressure, I dropped out."
This is what pushed him to develop a programme grounded in the needs of those "left behind" in the local community. Through direct and constant collaboration with the community's youth, the initiative is able to identify their specific needs and to develop tailored steps to support them, an Ilearn statement said.
"We encourage self-learning and the respect of individual psychological and social development paces to help students who are at risk or have lost faith in the education system", Sayyaleh said.
But the initiative also seeks to have a broader impact on the overall community. For Sayyaleh: "If you want to see a long-term change in a community, it needs to come from the community itself."
Through a grassroots approach based on community engagement, Ilearn initiates local young volunteers into their framework to establish itself more easily in vulnerable communities. In turn, it reaches out to local educators and role models, whom it trains in its methodology.
"I am passionate about bridging the gap between people with resources and the children who are left behind. I want to put them all in one space to work together to reduce inequalities," Ilearn founder said.
He recalled 16-year-old Maha, from Zarqa, once told him: "My parents wanted me to get engaged and leave school, but, when my mom started coming to the space to drop me off, she saw what I was doing here and how I am volunteering and using programming and computers to create video games and teach children. She no longer talks about engagement anymore."
However, Sayyaleh acknowledged the difficulties of this collaborative approach: "These volunteers who are privileged to go to university or these teachers who already have a job don't really have the perspective of what their students are going through. So, we train them to be able to work with dropout students, orphans, children with learning difficulties and child labourers."
In this process, "everyone becomes equal in opportunity and privilege", he stated.
Realistic about the lengthy process he is facing, an always-smiling Sayyaleh said: "We are aware of the fact that this positive cycle will not happen overnight. This is why Ilearn has set short-term and long-term sustainability tracks to reach its final goal."
The young man, who already counts numerous achievements to his name, including a US State Department fellowship, now hopes to see his initiative replicated in various areas of Jordan and outside Jordan. "Once you have a formalised model that works, it can be replicated to help vulnerable children anywhere in the world," he explained.
"Ilearn might come from a personal story, but it really is just the story of the children Ilearn works with," Sayyaleh concluded.
Related Articles
Aug 07,2018
AMMAN — Driven by the belief that the root cause of children and youth vulnerability stems from a "discouraging educational system" and a la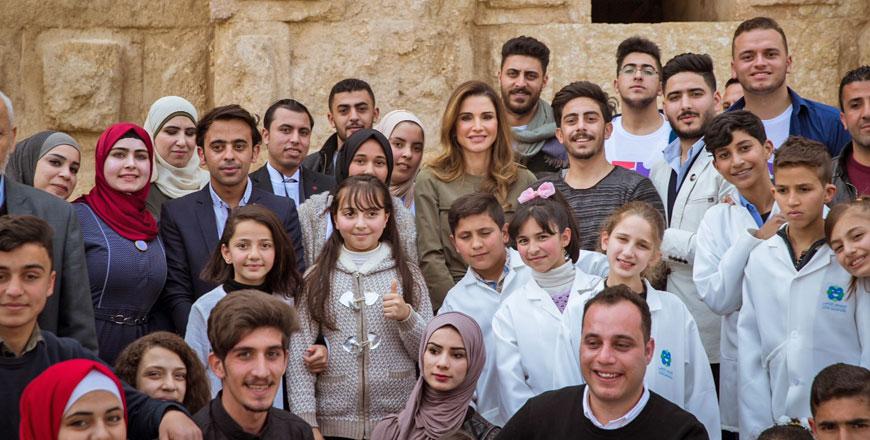 Feb 21,2018
AMMAN — Her Majesty Queen Rania on Tuesday visited the non-profit initiative, "I Learn Jo: Space for Knowledge" at the Jerash Visitor's Cent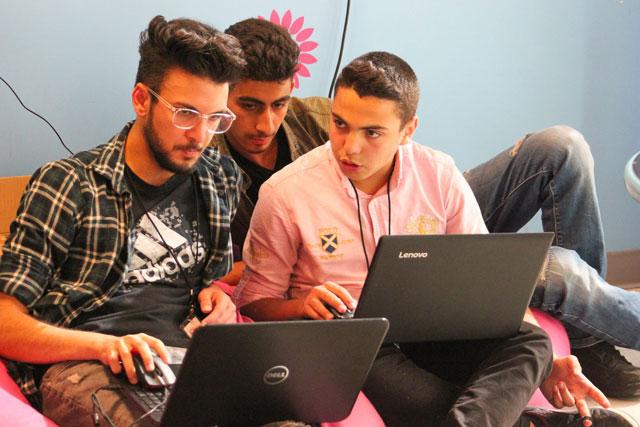 May 06,2018
AMMAN — Applications developers, parents, youth and children came together this weekend to come up with innovative technology based solution
Newsletter
Get top stories and blog posts emailed to you each day.