You are here
Scientific research, societal development interlinked, panel hears
By Sawsan Tabazah - Nov 05,2017 - Last updated at Nov 05,2017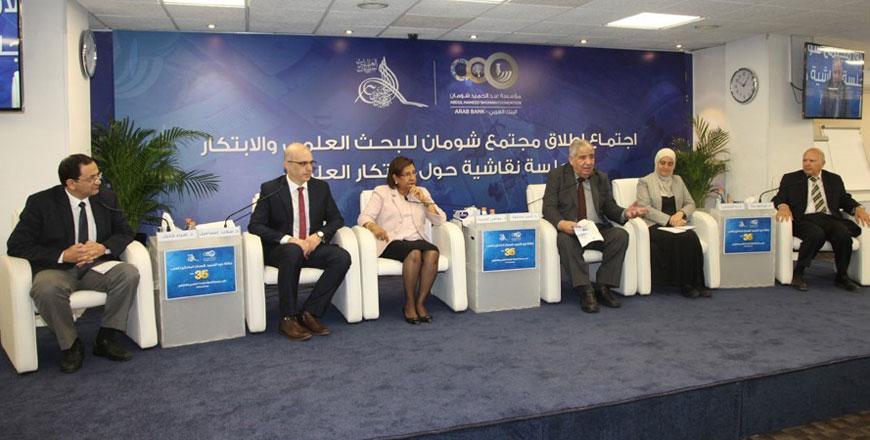 A panel at the Abdul Hameed Shoman Foundation on Sunday discussed the obstacles of conducting scientific research in the Arab world (Photo courtesy of Abdul Hameed Shoman Foundation)
AMMAN — A panel at the Abdul Hameed Shoman Foundation (AHSF) on Sunday discussed the obstacles of conducting scientific research in the Arab world and launched the Shoman Scientific Research and Innovation Community, that aims to network with awardees and judges, and to enhance cooperation between scholars, industrial sector, private sector and NGOs.
The panel titled "Science to Innovation in the Arab world" was held on the occasion of the 35th anniversary of Shoman's scientific research award.
Former Higher Education Minister Ameen Mahmoud said that the amount of research and funding available in the Arab world is "quite little" compared to developed countries, adding "we need to admit that education and scientific research are suffering a crisis".
Awareness must be raised about the need for quality education and scientific research, said Mahmoud, who served as the moderator of the session.
The former minister noted that strengthening of scientific research cannot be executed separately from inclusive development of society and economy.
Rana Dajani, an associate professor at the Hashemite University, said that in order to improve society, mentalities need to be change, which requires both time and effort.
"Strategic planning is needed to find long term solutions for our [societal] problems. We always think about the quick solutions, which do not exist," Dajani added.
Saeed Ismail, a scholar in genetics, said that the complicated process of research funding in Jordan is ruled by outdated laws that exhaust the applicant. "Youth need to be freed from [outdated] systems and to be released from boundaries," Ismail added.
During his time at The University of Jordan, Ismail often criticised the lack of Arabic content on the Internet, which prompted one of his students, Laith Alawneh, to make a change.
Alawneh created "Bel Arabi", an Arabic-translated Wikipedia page that was put together with the assistance of 30,000 volunteers, most of whom were students.
Dajani said: "Youth have courage and curiosity but they need a role model to learn from and we must be there for them."
However, researchers attending the event disagreed about the availability of funding, arguing that the money is there but that students need to strengthen their proposal skills to be eligible.
Governmental and non-governmental funding exists, but the problem currently lies within the universities' department of research management, where unqualified employees are unable to find the investors in need of student research, Dajani said.
Also speaking at the panel was Victor Billeh, an international expert of educational strategies and policies, who said that innovation is key to developing any national economy.
Dhiyaa Khaleel, the president of the electronic engineering department at Egypt's Ain Shams University, said that innovation is the ability to transform ideas that tackle the market's needs to add value for society.
Additionally, Mudhi Hmoud, president of the Arab Open University, said that there is a "real gap" between the scientific research system and the industry.
Lobna Okasha, the programme manager at Kuwait for the Advancement of Sciences, said that her institution created a programme titled "A Professor for Each Factory" that aims to network factories suffering from technical problems with researchers who can help find innovative solutions.
Their programme was however faced with several obstacles, including "a lack of trust" between the private sector and the Arab researchers. Okasha explained that they dealt with their respective patents possessively, refusing to share them unless "a very high price was paid for it".
Therefore, Okasha said they had to liaise and build trust between investors and researchers by providing scholars with training programmes to help invest their innovations in business.
Innovation awards
Meanwhile, AHSF on Sunday announced the launch of Abdul Hameed Shoman Innovation Award for Social and Scientific Innovations.
According to a statement, the award aims to enable Arab innovation, and to drive economic growth by promoting the fourth industrial revolution, founded on innovation.
The award hopes to address present-day challenges and accelerate societal gains such as job creation . It will be open in 2018 with a budget of up to JD1 million, according to the statement.
Related Articles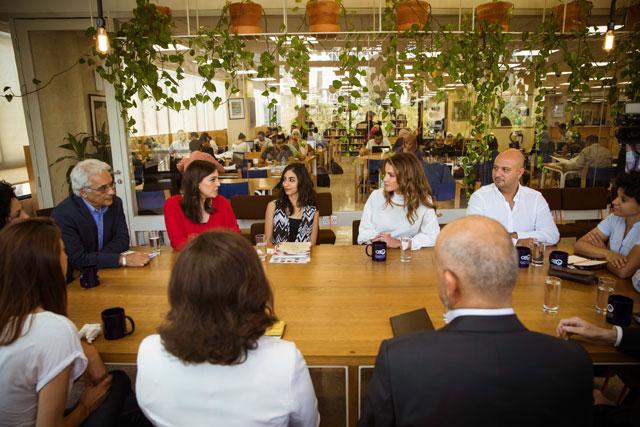 Oct 04,2017
AMMAN — Her Majesty Queen Rania on Tuesday visited the Abdul Hameed Shoman Foundation (AHSF), where she was introduced to the foundation's v
Oct 22,2014
The winners of the 32nd Abdul Hameed Shoman Award for Arab Researchers in 2013 were honoured on Tuesday.
Nov 07,2016
AMMAN — Sixteen Arab researchers in different fields of science were recognised by the Abdul Hameed Shoman Foundation's (AHSF) 2015 Arab Res
Newsletter
Get top stories and blog posts emailed to you each day.