You are here
Sculptor merges creativity with practicality at new exhibition
By Ana V. Ibáñez Prieto - Oct 10,2017 - Last updated at Oct 10,2017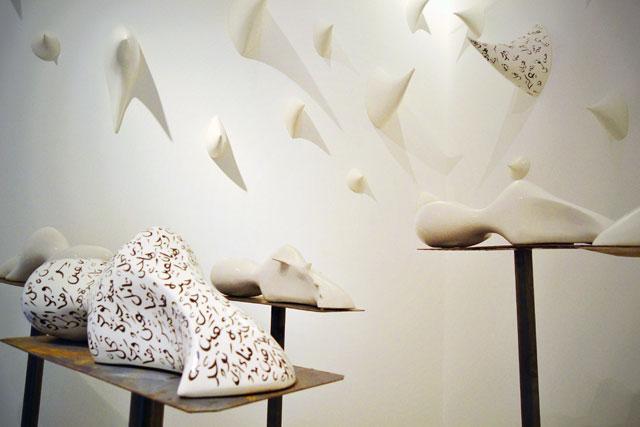 Katia Al Tal's creations convey the concepts of art and aesthetics, resulting in multifunctional and creative sculptures (Photo by Ana V. Ibáñez Prieto)
AMMAN — Clay, Arabic calligraphy and creativity converge in the sculptures showcased at the Wadi Finan Art Gallery with "Elysian", the new exhibition by artist Katia Al Tal and Nuwa Creations inaugurated last Sunday.
Held under the patronage of Princess Wijdan, the exhibition will be open to the public through October 16.
Visitors of the exhibition will be able to witness Tal's minimalistic sculptures, with organic curves and strokes that convey the artist's inner world and the mixture of her Arab origins and her travels across the globe.
"The pieces are a reflection of my inner journey and the constant transformation of my soul," Tal said in a recent interview with The Jordan Times.
"When I touch the clay, I try to put in the energy I get from Earth itself, the plants and the animals," the artist noted, adding that "the pieces talk about human beings, existence and the collective consciousness."
Tal's creations convey the concepts of art and aesthetics, resulting in multifunctional and creative sculptures that are defined by colours and lines.
"The exhibition is called Elysian because it is the word used to define anything that is beautiful and creative, divinely inspired, peaceful and complete — and that really represents the stages of my work and the state of the sculptures," Tal said.
The artist's educational background in psychology, political science and theatre, added to her creative touch, provided her with the tools to produce decorative, yet practical pieces "suitable for any setting".
However, the artist noted that her latest pieces are the result of a more design-focused stage in her career.
"When I opened Nuwa Creations I did not stop what I have always been doing, but I let my sculpting self be, the functional became more artistic and design came to life," said the artist.
"I always had a big imagination and I used to create things in my mind, visualising unrealistic things, and, the first time I felt the clay in my hands, it touched my soul and I could never leave it," the artist recalled.
Tal's work has been showcased at numerous exhibitions, private art collections and media channels across Europe and the Arab world.
Furthermore, her creations have been exhibited at the Jordan National Gallery of Fine Arts, the Museum of Islamic Art, the grand opening of the Museum of Contemporary Art at Yinchuan, and the XVA gallery in Dubai.
Related Articles
Mar 28,2015
Decorative yet functional, ornate yet minimalistic, imaginative and highly artistic are some attributes one can tag on Katia Al Tal's works on display at Wadi Finan Gallery.
Sep 24,2016
AMMAN — Several Jordanian artists presented their work at the seventh Beirut Art Fair last week, exhibiting contemporary art, handicrafts, s
Sep 01,2022
AMMAN — "Summer Exhibition: Paintings, Sculptures and Ceramics" is showcasing the artwork of 15 Arab artists at the Foresight32 Art Ga