You are here
Second phase of 'Safe lanes for people with visual impairment' project at UJ to begin soon
By Sawsan Tabazah - Sep 22,2018 - Last updated at Sep 23,2018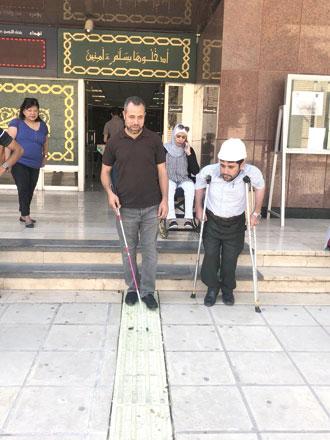 A visually impaired man using the new lanes at UJ during the launching event (Photo courtesy of Hadeel Abu Soufeh)
AMMAN — The University of Jordan (UJ) launched the first phase of the "Safe lanes for people with visual impairment" project last week to help students with disabilities walk independently around the university's faculties and facilities, project coordinator Hadeel Abu Soufeh said.
The track is made of textured tactile yellow tiles, which visually impaired people can recognise with their feet or sticks. The fluorescent colour especially helps if the person suffers partial sight loss, Soufeh added.
The first phase, which is 500 metres long, extends from the main gate of the campus to the Deanship of Student Affairs building, UJ Vice President Emad Salah said, noting that the lanes will help 200 blind students.
The second phase will cover a 1 kilometre area and cost around JD102,000 Soufeh said, noting that the project is funded USAID under the Civic Initiative Support Programme.
Salah said that second phase's construction will begin within 10 days, and the third stage will include installing rubber lanes inside faculties and amenities.
The main challenge faced by the project was finding alternative options to importing the tracks' tiles, "after more than two-and-a-half years of consultations with local and international experts, we resolved to call Jordanian factories for bids to produce the tiles in Jordan", Salah explained.
Al Mutatawera for tiles production won the bid and imported colouring substances and the mould, and produced the tiles according to the national building requirements for persons with disabilities code, issued recently by the National Building Council at the Public Works and Housing Ministry, the project coordinator told The Jordan Times during an interview over the phone.
Soufeh, who uses a wheelchair, and Hamza Barakat, a blind student, were among the main advocates of the 2012 "Sar Waqtha" initiative for the rights of people with disabilities at UJ who called for designing the blind lanes at the campus.
Streets are inaccessible to all pedestrians, not only blind people since there are many environmental obstructions, holes and various objects along the road but "Visually impaired students learn to avoid these obstacles by memorising the streets with reference points and counting the steps towards them, Barakat explained.
However, some obstructions come unexpectedly like vehicles, so such lanes are important to help visually impaired students reach their destinations safely, Barakat said.
The student stressed that UJ should conduct an awareness campaign around the campus because some students are unaware of the function of the lanes and that they should not gather or stand along them.
On the other hand, some training should be conducted for the lane users because they need to learn how to distinguish between different textures of tiles that lead them to roundabouts and straight lines and how to walk on 30cm wide lines, Barakat suggested.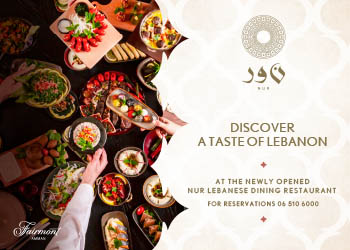 Newsletter
Get top stories and blog posts emailed to you each day.