You are here
Senate president with Archbishop of Bella reviews King's anti-Judaisation efforts
Fayez, Makhamreh recall Hashemite donations to restore Christian sites in Jerusalem
By JT - May 20,2019 - Last updated at May 20,2019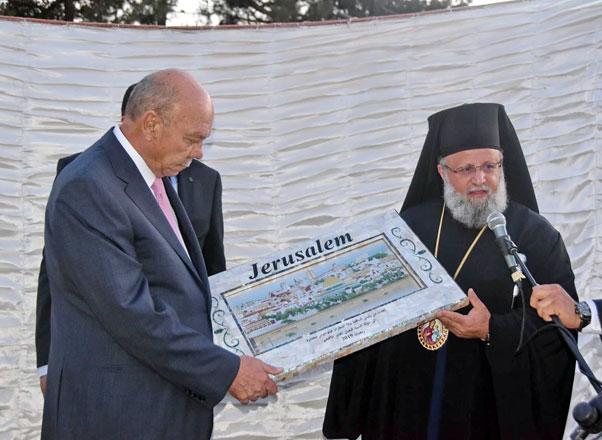 Senate President Faisal Fayez on Sunday says that Jordan has never given up on Arab causes, mainly Palestine and its people's legitimate right to an independent state of their own with East Jerusalem as its capital, during an Iftar banquet, held by Archbishop of Bella Philomenos Makhamreh (Petra photo)
AMMAN — Senate President Faisal Fayez on Sunday said that Jordan under the leadership of His Majesty King Abdullah has never given up on Arab causes, foremost of which is Palestine and its people's legitimate right to an independent state of their own with East Jerusalem as its capital.
Attending an Iftar banquet, held by the Archbishop of Bella, Philomenos Makhamreh, Fayez stressed that the Hashemite Custodianship over Jerusalem's Islamic and Christian sites has always been the guarantee of safeguarding the Holy City's shrines against Judaisation.
Fayez reviewed, with the Archbishop and attendees, His Majesty King Abdullah's efforts to protect Jerusalem and preserve its Arab and Islamic identity, the Jordan News Agency, Petra, reported.
"Not weeks ago, the King made a personal donation to restore the Church of the Holy Sepulchre in Jerusalem," Fayez said.
During the ceremony, Fayez called for bolstering coexistence and recognising the dangers besetting the Arab Ummah, especially in light of the talks about the so-called "deal of the century" and continues racist Israel practices.
Jordan is characterised by moderation and coexistence between Christians and Muslims, Fayez said.
Makhamreh said that Muslim-Christian relations in this country are historical and date back more than 1,400 years.
Makhamreh said that the Hashemites are sole custodians of Jerusalem, noting that no sovereignty or custodianship over the old city's holy sites will be but the Hashemites'.
Newsletter
Get top stories and blog posts emailed to you each day.