You are here
Sixth person dies in Aqaba silo explosion incident
By Rana Husseini - May 22,2018 - Last updated at May 22,2018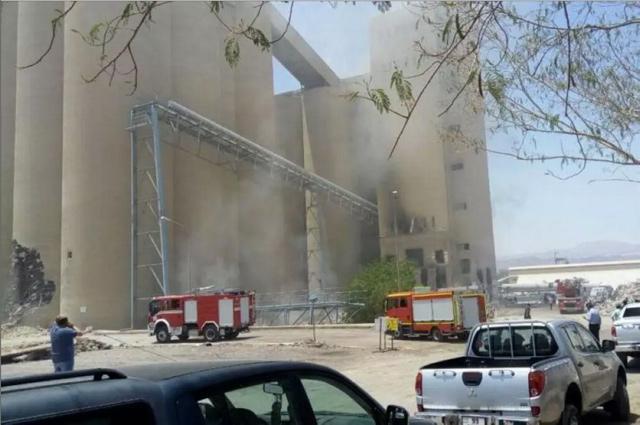 Another Aqaba silo employee died in the hospital late on Monday night, raising the death toll of the explosion that happened during demolition work last week to six victims, according to Special Economic Zone Authority (Al Rai photo)
AMMAN — An Aqaba silo employee died in the hospital late on Monday night, raising the death toll of the explosion that happened last week during demolition work in Aqaba to six victims, Special Economic Zone Authority (ASEZA) Chief Commissioner Nasser Shraideh said.
The explosion, which occurred on May 14, resulted in the critical injury of nine workers, as several contracting companies were demolishing construction sites at the premises.
The latest victim had been transferred yesterday to Amman along with another employee for further medical attention.
"We lost another person and this is really unfortunate. We offer our deepest condolences to their families," Shraideh told The Jordan Times, noting that the contracting companies have reached out to the families of the victims for settlements.
"The companies reached tribal and financial settlements with the majority of the victims' families," he stated.
The prosecutor has charged the contracting and sub-contracting companies tasked with demolishing the old port with causing the death and harm of individuals.
Preliminary investigations indicated that the two companies failed to adopt the required safety measures in accordance with their contracts, according to Shraideh.
ASEZA issued a statement on Monday stating that the cause of the explosion was due to "a spark from iron wielding or another electric source", adding that ASEZA closed down the premises to allow rescue teams and investigators a quick and easy access to the area.
The demolition of the silos was part of an executive plan to handover the port's site and the third phase of the Marsa Zayed project, Shraideh said in April, noting that preparing the infrastructure at the old port and demolishing and removing the rubbles of the old facilities such as the warehouses, silos and other parts will be accomplished by the end of August.
Related Articles
May 26,2018
AMMAN — On behalf of Prime Minister Hani Mulki, Deputy Prime Minister and Minister of State for Prime Ministry Affairs Jamal Sarayreh on Sat
May 21,2018
AMMAN — Two people who were critically injured at the Aqaba silos' explosion last week died in the hospital on Sunday as a result of wounds
May 28,2018
AMMAN — The case of the recent silos explosion in Aqaba has been referred to the Jordan Integrity and Anti-Corruption Commission, the Jordan
Newsletter
Get top stories and blog posts emailed to you each day.