You are here
Social enterprise connects urban with rural citizens over local heritage
Internationally acclaimed enterprise set example of bridging gap between city and village culture amid overwhelming urbanisation
By Camille Dupire - Nov 12,2017 - Last updated at Nov 18,2017
A woman from the village of Eiraa, west of Salt, teaches an Amman resident about the wild plants found in the area (Photo courtesy of Zikra)
AMMAN — "With the expansion of urbanisation and modernisation, people have become disconnected from their heritage and their local communities. They have turned blind to what they already have," said Lama Khatieb, co-founder of the Jordanian social enterprise, Zikra, an award winner.
"This is where Zikra comes in: We help people reach out to these skills, knowledge and culture that they already have," she told The Jordan Times over the phone.
The Jordanian social enterprise was recently awarded the UNESCO-Japan Prize on Education for Sustainable Development (ESD) for its "Popular Learning Programme", during a ceremony held at the UNESCO headquarters in Paris earlier this month.
The programme aims to enhance local knowledge in various communities in Jordan and in the region by reframing them into sustainable economic opportunities.
"We already have so many assets and knowledge in society. We just need to cultivate them and remind people that they exist," Khatieb said, citing one of the projects focused on the local practice of frash, a sewing technique used by the local communities in the north of Jordan.
Frash consists of re-using the fabrics from the household and turns them into blankets, curtains or other items.
"We are not importing any knowledge, people were already using that technique when we arrived and we only helped them develop this skill into a viable economic project," the co-founder said, noting that the project, which started at a very small scale in 2011, now counts 5 to 6 projects in different governorates.
To date, more than 8,500 people have participated in Zikra for Popular Learning, with 280 youth being trained and 60 individual households economically empowered.
"We also invite youth from the region to train them in replicating the same initiative in their home countries. We have seen projects being implemented in Syria, Tunisia, Algeria, among others," Khatieb noted.
In addition to the UNESCO awarded initiative, Zikra (or "memory" in Arabic) is also conducting a number of projects aimed at promoting "alternative learning" to empower local communities.
Starting in 2007 in the remote and marginalised village of Ghor Al Mazra'a in the southern Jordan Valley, Zikra was established by Amman-based entrepreneur Rabee Zureikat, who wanted to find alternative ways to alleviate poverty.
"I did not want to give through the usual forms of charity, going from the capital to the rural areas, which is often demeaning to the receiving party. This is how I came up with the idea of 'exchange tourism'," Zureikat explained.
The "exchange tourism" is an initiative that promotes equity between rural and urban communities through cultural exchange.
"We want to bridge these two communities together by promoting alternative learning techniques whereby people reconnect with their local culture and traditions. Zikra aims to empower them to use their local heritage as a source of inspiration for sustainable solutions to their issues," he explained.
With Zikra, both sides give and receive: while Ammanites — and tourists — contribute with a small fee of around JD30, villagers bring their own resources to the table: skills.
Mazra'a residents invite the visitors into their homes, where they show them how to cook, weave, bake bread, pick fruit, while listening to stories by the locals.
"I used to pass this area on my way to Aqaba by car without stopping. I discovered how simple life is here and how complicated our life is in Amman," a young professional from Amman told Zukeirat after a day trip to Ghor Al Mazra'a.
"We strive to bridge the gap of memory, by showing everyone that knowledge and skills from the past can still be useful nowadays," Khatieb said.
For its part, the popular music identity project seeks to re-discover the traditional music instruments such as nay, shabbaba, yarghoul (all indigenous pipe instruments) and rababa (bedouin violin) and traditional dances like dabkeh, at a time when a Westernised culture is dominating the Jordanian musical scene.
In this project, visitors learn how to make their own instruments from local natural resources like reeds, play the instrument and explore the stories behind it.
The self-funded programme aims to go against existing social systems by using local capacities to progress towards a more egalitarian, inclusive society, according to its founders. "The tourism revenues generated by the initiative is reinvested in the marginalised communities' economic development, through microloans to local entrepreneurs, preferably females, which helps narrow the socioeconomic gap," Zukeirat said.
A statement by the UNESCO quoted the international committee that selected Zikra for the award as saying: "This exemplary project demonstrates a creative and dynamic response to local issues through using innovative approaches to learning which recognise and affirm existing strengths, cultures and traditions in communities and countries in the region, bringing these to bear on difficult social, economic and environmental challenges towards greater sustainability."
Zikra and its founders have also been awarded the King Abdullah II Award for Youth Innovation and Achievement, the Ashoka fellowship and a special recognition by His Majesty King Abdullah at the World Economic Forum in Jordan. Zureikat was also listed by Arabian Business Magazine as one of the "Top 30 Under 30".
Related Articles
Mar 08,2018
AMMAN — The Jordanian Hashemite Fund for Human Development (JOHUD) and the USAID Building Economic Sustainability through Tourism project (B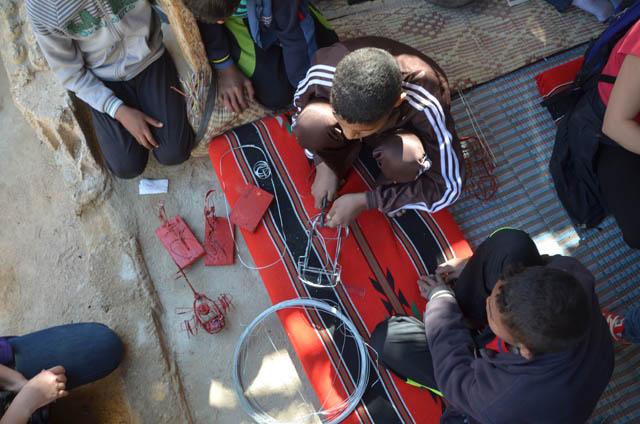 Apr 03,2014
It only took 14-year-old Khaled Mohammad three hours to learn the basics of creating wire cars. 
Apr 11,2018
AMMAN — Motivated by the study of female agricultural labour, a Jordanian-Armenian social anthropologist started conducting research in Ghor