You are here
Startup uses music to integrate Jordanian youth
By Victoria Silva Sanchez - May 02,2017 - Last updated at May 02,2017
AMMAN — It is Saturday morning in Al Kufrain, a little village in the Jordan Valley. Around 15 children and teenagers, boys and girls, wait for their music lesson in Al Kufrain Innovation Lab, a space established by the Jordanian Hashemite Fund for Human Development (JOHUD), to foster youth creativity and provide them with a space to develop their artistic skills.
"Children come here during the week after school and during the weekends to take part in activities like drawing, photography, origami, robotics and music," says Raya, one of the responsible of the centre.
Today, these boys and girls will learn the scale of tones and how to play some instruments, like the piano or the drum.
"I like the music and I feel like learning about music and how to play one of the instruments. I want to develop my skills and there was an available programme here, so I enrolled myself," says 15-year-old Inas.
Mounif is one of the instructors in the Music Works programme. He is a guitarist in a local band called Ayloul, but his passion for music has lead him to get involved with the Music Works project, to teach music to children and teenagers from underprivileged areas in Jordan or to people unable to come to Amman on a daily basis.
"One of my personal values is to share the knowledge that I gained in the past because I feel it is one of our responsibilities towards the deprived communities: helping them in learning music. This is why I spend every Saturday going to the Jordan Valley and Karak to teach these children," says Mounif.
Music Works is a project established by the Jordanian startup Izzif. Izzif is the first online music school in Arabic, which gathers students from 57 different countries all over the world.
Bisher Abu Taleb, founder of Izzif, explains: "I saw the growth and the boom of e-learning spaces and I discovered that no one has gone into that space in the field of music. Then, I said to myself, 'I need to start the first online music school in Arabic.'"
Bisher believes in the importance of making music education available to anyone, regardless of their socio-economic background or geographical location.
"We actually believe that the programme is a solution for the general problem of the lack of music education in the Arab world. Many countries like Jordan, or even Lebanon do not have the infrastructure, the tools and enough graduates or music talents who can teach music in public schools."
Izzif's model combines the use of e-learning platforms with on-ground programmes that reach Jordanian youth from rural areas and young people who cannot afford to pay for the subscription.
"I was very concerned about the idea that the next Beethoven or Bach was in a rural area in the Arab world and no one gave him or her an instrument to just unleash the talent," Bisher notes.
The on-ground project started as a pilot in 2014 and has since then expanded to different locations. But Music Works is not only about music, it is also a tool to help these children develop social skills that would help them in their lives.
"Music enhances self-confidence, team work when the kids play together and determination to keep practicing to master the instrument or the musical piece, and also social behaviour. We believe in the effects of music in making one a better person," Bisher states.
Regarding the positive impact of the programme, Bisher shares a special story: "We had the case of a girl who was actually physically violent to others. When we started the programme, she was one of the most active girls and, suddenly, she started teaching other girls. That made the relationship between her and other girls become the opposite of what it was."
In today's lesson, a group of boys is learning how to play the drum following an Izzif instructor in a video tutorial and with the guidance of Mounif, while groups of girls are practising together how to play on the keyboard.
"I think the impact is very positive," says Mounif, adding "We started with a group of children with zero knowledge in music, and now they know about musical theory, playing some instruments and songs in few lessons. They learn because they have the passion and the methodology is very good."
Related Articles
Nov 19,2017
AMMAN — A local online platform has launched a project to document traditional Jordanian and Palestinian songs, and teach them to music enth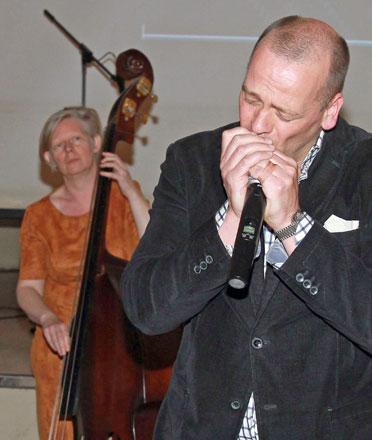 May 26,2016
AMMAN — In celebration of the Kingdom's 70th Independence Day, UNRWA Jordan and Music In Me International Foundation on Wednesday launched a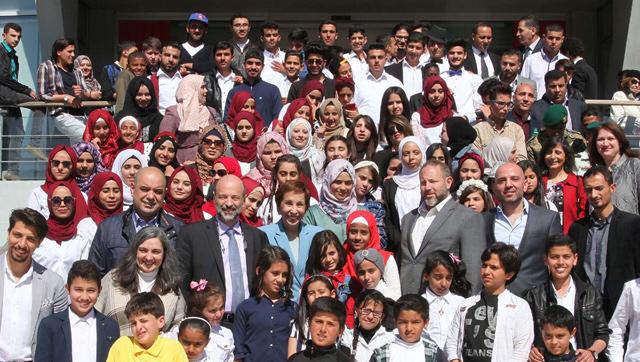 Mar 17,2018
AMMAN – Under the Patronage of HRH Princess Basma and with the attendance of Education Minister Omar Razzaz, "Izif", a programme to teach mu
Newsletter
Get top stories and blog posts emailed to you each day.