You are here
Steps still needed to help women grow SMEs and home businesses — experts
By Camille Dupire - Dec 18,2017 - Last updated at Dec 18,2017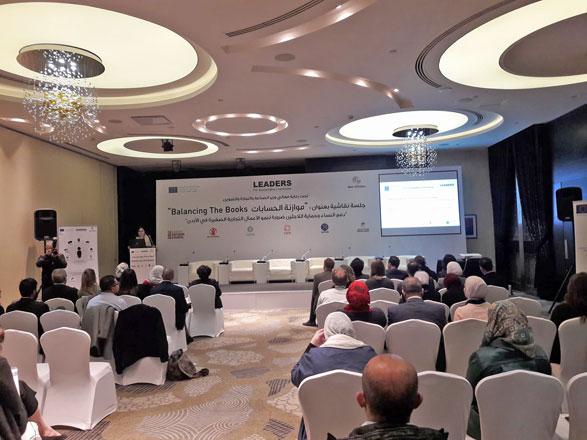 Rania Ahmad, deputy regional director at the Danish Refugee Council, speaks in front of participants in a panel discussion on women empowerment in Amman on Monday (Photo by Camille Dupire)
AMMAN — The obstacles faced by young women and Syrian refugees willing to establish home businesses are still extremely high, experts agreed at a panel discussion on Monday.
Organised by the LEADERS consortium in Jordan and funded by the EU regional trust fund "Madad", the panel aimed to discuss the findings and recommendations of a joint briefing paper titled "Balancing the Books — Including women and protecting refugees is essential to realising small business growth in Jordan".
According to the latest national statistics, female participation in the workforce amounts to a small 12.5 per cent, compared with 58.5 per cent of males.
Furthermore, the majority of the Jordanian workforce is employed in micro, small and medium-sized enterprises, which are, nonetheless, still poorly monitored and subject to many challenges, according to the National Employment Strategy 2011-2020.
While many women are willing to establish their own business and sustain decent livelihoods, according to the panellists, they are still facing many obstacles, especially Syrian refugees and vulnerable women in host communities.
The panelists, who included economist Maysoon Amarneh, researcher and Director of the Phenix Centre Ahmad Awad and researcher Ahmad Alshugran, highlighted the limited access to finance for these aspiring entrepreneurs, including credit, residency proofs and security clearance.
A 2016 study by the European Investment Bank showed that 43 per cent of businesspeople in Jordan reported major or severe constraints on their access to finance. This issue is further heightened in refugee communities, where non-Jordanians are required to demonstrate between JD100,000 and JD300,000 in bank collateral, before they can register any business.
Issues of safety and discrimination are also considered as major barriers to employment and entrepreneurship, according to the panelists.
"I would love to register my home-based business, but I guess I would need permission from my landlord to do so. I don't think he would give me that permission," a Syrian woman was quoted in the discussed report as saying.
Moving on to recommendations and solutions to enhance women's participation in the labour market and promote sustainable livelihoods, the panelists highlighted the need for collective action groups and cooperatives to help women support each others.
They also stressed the need for the government to exert its efforts in facilitating and clarifying business registration processes, as well as developing a "clear and targeted national vision for small business".
Oxfam's Country Director in Jordan Nivedita Monga said at the event: "Business growth in Jordan has to pay special attention to vulnerable Jordanians and Syrian refugees particularly women. They need to be able to start and grow their small businesses. With a little help, they can unlock their potential and drive economic growth in Jordan from the bottom up."
"As a woman living in the region, I am very sensitive to this topic as I am aware of all the challenges that we, females, can face in setting up any business. So I am very happy to see what has been done by our consortium," said Rania Ahmad, deputy regional director at the Danish Refugee Council (DRC).
DRC is part of the LEADERS consortium, which is comprised of Oxfam, ACTED, Save the Children and CARE, and has been spearheading projects in the governorates of Mafraq, Irbid and Zarqa to support the economic resilience of host communities and Syrian refugees.
Its projects are funded by the "Madad" fund, which addresses socio-economic, educational, health, psychosocial, water and sanitation needs of Syrian refugees, host communities and their administrations in the region, according to its website.
To date, the Madad Fund has committed some 211 million euros of assistance to Jordan.
Related Articles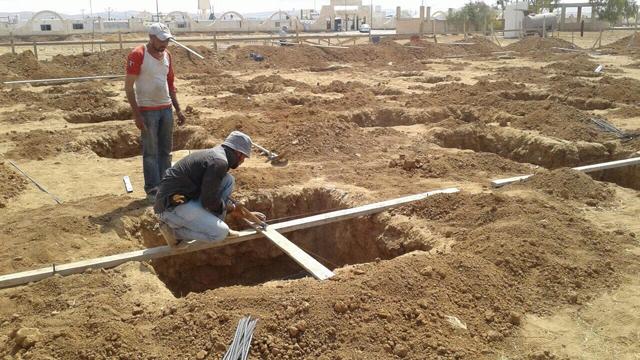 Aug 22,2017
AMMAN — A series of workshops held in Ramtha on the type of humanitarian response needed to address the needs of vulnerable Jordanian and re
Nov 07,2017
AMMAN — "Standing next to this picture of me in front of my shop, I return back to life," said Khaldoun Ali, a shop owner who recently opene
Jan 10,2017
IRBID — The LEADERS Consortium on Tuesday launched a new project to help Syrian refugees and host communities in the northern governorate of
Newsletter
Get top stories and blog posts emailed to you each day.