You are here
Strategy needed to integrate ICT into learning process — Jordan Education Initiative CEO
By Mohammad Ghazal - Jul 12,2014 - Last updated at Jul 12,2014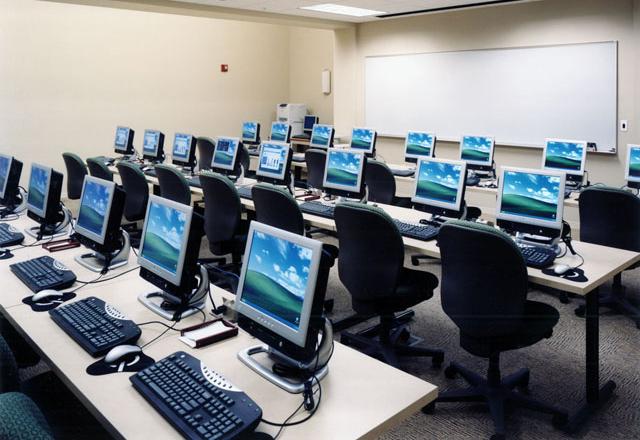 AMMAN — The absence of a focused strategy on the integration of ICT into schools is hampering the spread of the Jordan Education Initiative (JEI), a public-private partnership that envisions accelerated education reform through technology integration, according to its CEO.
"We need a focused strategy to integrate ICT into the educational system to increase the reach of the initiative," JEI CEO Nermine Nabulsi told The Jordan Times in a recent interview.
"Financing is not a major challenge, as when there is such a strategy, donors are willing to help and contribute to its effective implementation," Nabulsi said.
The initiative and its partners have managed to develop an educational model that is currently implemented in 177 schools at different levels across the country.
"The JEI model implemented at the 177 schools has resulted in an improved performance by students, more skills for teachers and better management of the entire school. We hope that there will be a strategy so our model is implemented at more schools," said Nabulsi.
JEI's educational model deals with the whole school as one unit and works on "effective pedagogical integration of ICT tools and e-resources to enable students to become "skilled citizens for the knowledge economy", she noted.
The JEI has impacted 108,000 students and 6,000 teachers so far.
"Although the Ministry of Education supports us... more is needed to further integrate ICT into schools," she said.
When Her Majesty Queen Rania launched JEI in 2003, the Kingdom was a pioneer in leading the integration of ICT in education through the digitization of the national curriculum and providing schools with computer labs, Nabulsi noted.
"When compared to the region, Jordan has witnessed a drop in ICT integration; therefore, we need a strategy to boost it."
Over the past five years, integrating technology at public schools was not in focus due to a shortage in financial resources, which has negatively affected the sustainability of JEI models at schools and placed more obstacles in the face of expanding the initiative's reach, Nabulsi said.
Therefore, the JEI recently launched "Fursati Liltamayyoz", an internship programme designed to improve employment opportunities for fresh ICT graduates and those who finished their studies less than two years ago.
The interns will help transform schools into ICT community hubs by applying different e-learning technologies offered by JEI. This will be followed by four months of on-the-job training in several private sector companies.
"This programme not only helped us sustain and elevate the JEI model at the 177 schools, but also helped the interns find jobs through linking them to top private sector companies," said Nabulsi.
The schools that benefited from the initiative are equipped with wireless infrastructure which allows access to e-content anytime and multipurpose rooms with interactive whiteboards, she noted.
Teachers can access the electronic content of maths, science, Arabic, English, ICT and civic education curricula in the classroom using laptops and projectors provided to them by JEI.
The teachers also receive training to create an environment where critical thinking, problem solving and communication skills are instilled, Nabulsi said.
JEI was launched in partnership with the World Economic Forum in 2003, aiming to leverage public-private partnerships to equip Jordan's classrooms with computer technology and inspire cutting edge curricula, as well as training teachers in more student-centred methods.
Related Articles
Sep 20,2014
Teachers should seize the opportunity of addressing more than 2 million Jordanians every day to unite the internal front by instilling the values of dialogue, integrity, modernisation and good citizenship, Education Minister Mohammad Thneibat said Saturday.
Nov 23,2014
Her Majesty Queen Rania on Sunday checked on different learning technologies applied by the Jordan Education Initiative (JEI) in a number of public schools in Jordan.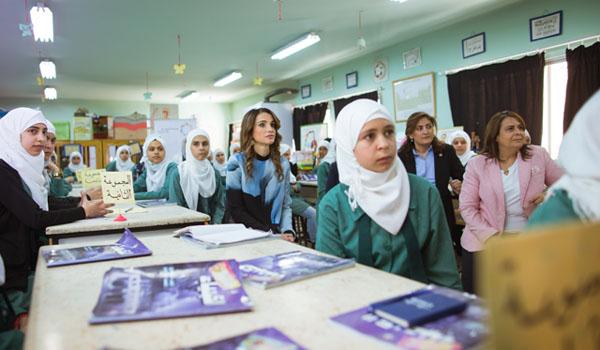 May 13,2015
Her Majesty Queen Rania on Wednesday visited the Shifa Bint Awf School for Girls and checked on the progress of several educational projects carried out by the Jordan Education Initiative (JEI), as well as the Watan Music Chamber. 
Newsletter
Get top stories and blog posts emailed to you each day.