You are here
Study gives impetus to Jordan's renewable energy drive
Kingdom aims to reach a 31% contribution of renewable energy in electricity generation — Zawati
By Maria Weldali - Feb 23,2021 - Last updated at Feb 23,2021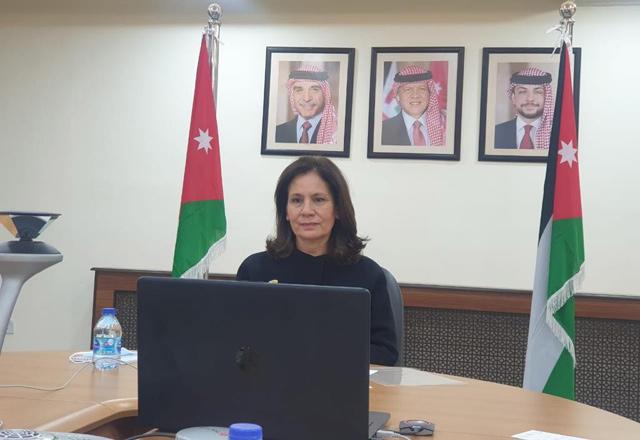 Minister of Energy and Mineral Resources Hala Zawati attends the virtual launch of a study on renewable energy on Monday (Petra photo)
AMMAN — The Ministry of Energy and Mineral Resources together with the International Renewable Energy Agency (IRENA) have launched a study assessing the Kingdom's readiness for the deployment of renewable energy.
Energy Minister Hala Zawati told The Jordan Times on Monday that the IRENA conducted the study, in light of Jordan's success in exploiting renewable energy resources, whereas the contribution of renewable energy to Jordan's energy generation rose from less than 1 per cent in 2014, to about 20 per cent in 2020.
Zawati added that the study aims at identifying requirements to facilitate the Kingdom's ongoing expansion of renewable energy use, thereby achieving the objectives set out in the 2020-2030 comprehensive strategy, by reaching a 31 per cent contribution of renewable energy in electricity generation.
"The strategy also aims to a greater use of renewable energy in heating water in various sectors, such as the industrial and health sectors, in addition to using it in the transport sector, electric vehicles and energy storage projects," she added.
The Renewables Readiness Assessment (RRA) is a comprehensive tool for assessing the suitability of conditions in different countries for the development and deployment of renewable energy, along with the actions required to improve those conditions, according to the IRENA website.
The study includes recommendations for the development of the renewable energy sector in Jordan, in addition to optimising its economic impact, according to a ministry statement made available to The Jordan Times on Monday.
The minister said that the 2020-2030 comprehensive strategy revolves around four main pivots, including security of energy supply, energy availability at an affordable price, energy sustainability, in addition to increasing reliance on local resources.
The study recommended the need to continue the growth of renewable energy sources in the energy sector, underlining the importance of planning to stimulate renewable energy sources.
IRENA is an intergovernmental organisation that supports countries in their transition to a sustainable energy future, according to its website.
Related Articles
Nov 05,2020
AMMAN — The COVID-19 crisis has exacerbated the need for continuing renewable energy technology development to enhance the capabilities of n
Dec 13,2020
AMMAN — Minister of Energy and Mineral Resources Hala Zawati on Sunday announced that the drilling in Well 53 in Risha gas field has shown "
Sep 09,2021
AMMAN — A Daehan Wind Power Company (DHWP) owned wind project was launched on Thursday in Tafileh govenorate, the southern region.Minister o