You are here
Supporters of candidate Hind Fayez protest ballot box theft in Central Badia
By Sawsan Tabazah - Sep 24,2016 - Last updated at Sep 24,2016
AMMAN — Supporters of former MP Hind Fayez staged a sit-in on Saturday in the Central Badia to protest what they termed as electoral fraud in the district during Tuesday's parliamentary elections, in which Fayez lost her seat.
The open-ended protest is being held to demand that the state "honour its duty by proving the truth" over an incident in the Central Badia in which 10 ballot boxes were stolen from polling stations.
Fayez told The Jordan Times that the sit-in would be peaceful and protesters would not riot. "Jordanians are wise and rational and won't riot," she said.
Riots took place on Wednesday evening by a masked group of men claiming to be supporters of Fayez, but the former MP said those who took part in the riots were not by her supporters as the people of Central Badia "would not have worn masks".
Independent Election Commission President Khaled Kalaldeh said an audit was held in Central Badia because 17 ballot boxes were believed to have been tampered with or stolen in the district.
"After thorough examination, 10 ballot boxes were found to be intact. Another was found to be tampered with but we managed to rectify its situation based on matching electronic and hard copies of related documents," Kalaldeh said, adding that four boxes were destroyed and one was still missing.
"As a result, we have decided to invalidate the four boxes that were stolen and the one that is missing," Kalaldeh said at a press conference last Thursday.
But Fayez said a new election should have been held in the district, citing Article 49 of the Elections Law, accusing the authorities of orchestrating the "fraud".
The IEC chief had initially said the election would be held again, but the commission announced on Thursday that no re-vote would take place.
Explaining the decision, Kalaldeh said Article 49 does not obligate the IEC to hold a revote, giving it the authority to decide whether to redo the poll in certain districts in case of violations.
Fayez claimed she knew the polling stations would be attacked and forewarned Kalaldeh, who said he would ensure protection for the voting centres concerned.
Those who stole the ballot boxes invalidated ballots by selecting multiple candidates, voiding the votes, according to the former MP.
Fayez said supporters would join her at the sit-in, which is taking place in the Qastal area.
However, she ruled out taking part in a re-vote in the district, and said she would not run for Parliament again except on a national level.
Under the new Election Law, candidates can no longer run on the national level and must run in their own districts.
Related Articles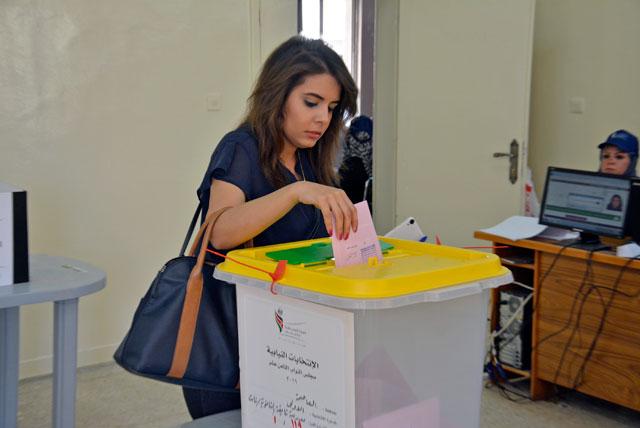 Sep 21,2016
AMMAN — The voting process in the 2016 parliamentary elections ended at 8pm Tuesday and the counting of votes started in the first polls con
Oct 07,2016
AMMAN — The Independent Election Commission (IEC) has only received one contestation over the results of the parliamentary elections held on
Sep 21,2016
AMMAN — Voting will be repeated at a polling station in the Central Badia after violations were uncovered at the centre's ballot boxes, the