You are here
Suspect in Hattar's murder identified
By Rana Husseini - Sep 25,2016 - Last updated at Sep 25,2016
AMMAN – The authorities on Sunday identified the alleged killer of Jordanian writer Nahed Hattar who was gunned down on the steps of the Palace of Justice in Abdali earlier in the day as Riad Ismaeel Abdullah, 49, a resident of east Amman.
Security sources said the suspected killer was known as an extremist.
Hattar, who sparked outrage after sharing a caricature that was considered insulting to religious belief, was apparently going to attend a court session.
The writer and political activist turned himself in in mid-August to the Amman governor after the government ordered an investigation into the caricature issue. He remained in custody until two weeks ago when he was released on bail.
On Sunday, he was walking to the court along with family members for matters related to the court proceedings, sources said.
In his initial confession to authorities, the suspected murderer said he carried out the alleged shooting because of the caricature that Hattar published on his Facebook page, according to media reports.
Witnesses at the site in front of the Palace of Justice, where Hattar was gunned down, described a chaotic scene that emerged after the shooting, around 9.30 am.
"I was helping a woman with some documents when we heard gunshots," said a man who helps court goers prepare their official documents.
"I looked to my right and I saw the body of a man on the floor next to the courthouse steps so we immediately ran in the other direction fearing for our lives," the man, who preferred not to be identified, told The Jordan Times.
Another man with the same profession said he was also busy helping a man with official documents, and said that he thought the gunshot noise was just firecrackers.
"It is really horrific. I have been stationed here at the Palace of Justice since 1993. This is the first time we encounter such an incident here," the man, who also refused to identify himself, said.
Witnesses told the Jordan Times that the perpetrator turned himself in to police who were stationed at the Palace of Justice after committing the crime.
Hattar sparked outrage after sharing the caricature on his Facebook page last month depicting a bearded man in heaven, smoking and in bed with women, asking a figure resembling God to bring him wine and cashews.
Related Articles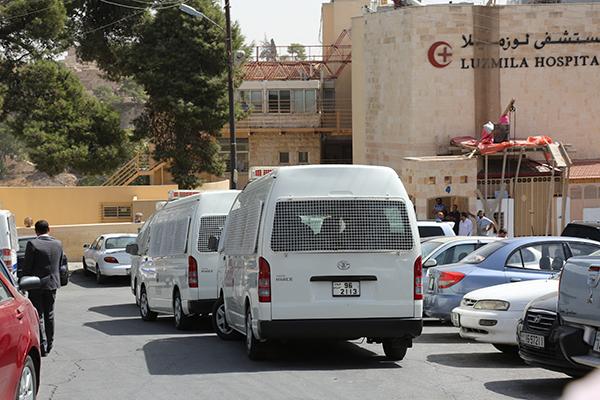 Sep 25,2016
AMMAN — The Criminal Court prosecutor on Sunday charged the man suspected of assassinating Jordanian writer Nahed Hattar with premeditated m
Sep 26,2016
AMMAN — The State Security Court (SSC) on Monday banned all forms of publication regarding the shooting of Jordanian writer Nahed Hattar, th
Dec 20,2016
AMMAN — The State Security Court on Tuesday sentenced a 49-year-old man to death for assassinating Jordanian writer Nahed Hattar in front of