You are here
'Switching to solar power saves owners 90% of electricity costs'
By Mohammad Ghazal - Aug 27,2014 - Last updated at Aug 27,2014
AMMAN — Households in Jordan can save up to 90 per cent of their monthly electricity bill by installing photovoltaic systems to produce energy from solar power, according to organisers of a campaign to encourage the usage of such systems at homes.
Dubbed "My Sun: The Source of My Energy", the campaign was launched late Tuesday, urging households across Jordan to install photovoltaic systems and make use of solar energy, as the Kingdom has one of the highest annual daily averages of solar irradiance in the world with an estimated 330 days of sunshine per year.
The campaign was launched during a seminar that was part of a of a nonprofit social marketing initiative implemented by the Abu Mahjoob Foundation for Creative Production for a project overseen by the Energy and Minerals Regulatory Commission (EMRC) and financed by USAID's Public Action Project for Water, Energy and Environment.
The campaign targets households that consume more than 600 kilowatt hours monthly (billed more than JD50), encouraging them to install solar panels to generate electricity.
"Jordan suffers from a rising energy bill, which represents a challenge to the government, and by installing these systems at home we make use of a clean and lasting energy source and save big," actor Zuheir Al Noubani, a supporter of the campaign, said during the seminar.
"This is a free energy source. We have to make the best out of it," Noubani added.
Ghazi Musharbesh, a homeowner who has already installed the system, said his electricity bill dropped by more than 90 per cent.
"My monthly bill used to be JD110 on average. It is now JD10 a month. This is a good investment and in a few years time I will get back what I paid by making such savings and reductions in my bill," Musharbesh noted at the event.
Several others who installed photovoltaic systems encouraged other homeowners to follow suit to reduce their electricity bills.
Sufian Batayneh, representative of the chief commissioner of the EMRC, said the cost of installing such a system for houses that consume 600 kilowatt hours monthly is around JD4,000 and those who install the system will get the return on their investment in three to four years.
Families interested in installing such systems need to contact any of the power distribution companies across the country and submit an application. They will receive a reply in five to 17 working days, according to an EMRC leaflet.
Once approved, a specialised company will install the system and connect it to the grid.
"We are committed to renewable energy projects which are crucial to reduce our costs," Batayneh said, adding that the maintenance of this system is simple.
Related Articles
Sep 27,2014
Living in a house full of air conditioners, electric water heaters and kitchen gadgets, Mohammad Shuqeir pays only JD2 for his monthly electricity bill, and sometimes even makes money by selling the surplus electricity he produces at home.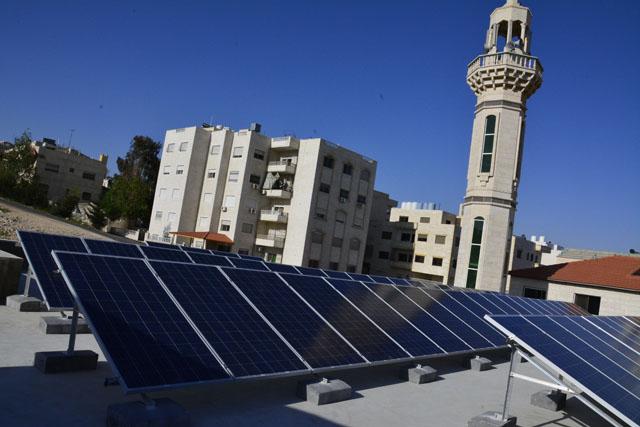 Jul 15,2014
A three-month campaign began this week to encourage households to install solar photovoltaic systems to generate electricity at home, which will significantly reduce the country's energy bill.
Aug 25,2014
Two seminars slated for Tuesday and Wednesday will promote household use of photovoltaic systems to produce electricity from solar power.
Newsletter
Get top stories and blog posts emailed to you each day.