You are here
Syria confirms participation in upcoming Arab parliamentary meeting in Amman
MP says invitation to northern neighbour came after lobbying from Jordan
By Raed Omari - Feb 21,2019 - Last updated at Feb 21,2019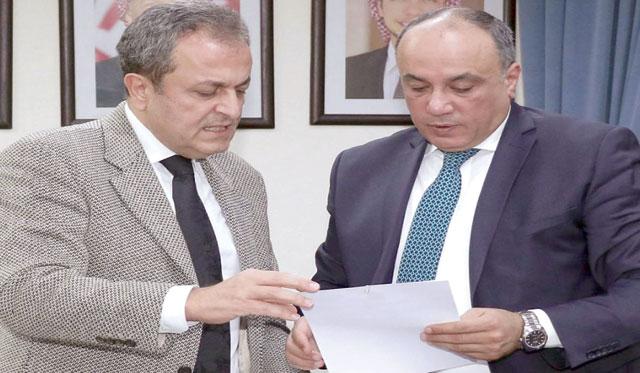 Syria's acting ambassador in Jordan Ayman Alloush (left) delivers a letter to acting Lower House speaker Nassar Qaisi from Syrian People's Assembly speaker Hammoudeh Sabbagh on Thursday (Photo courtesy of Lower House)
AMMAN — Syrian People's Assembly Speaker Hammoudeh Sabbagh will attend the Arab Inter-Parliamentary Union's meeting in Jordan in March, he confirmed on Thursday.
Syria's acting ambassador to Jordan, Ayman Alloush, delivered a written letter to acting Lower House speaker Nassar Qaisi confirming the participation of Sabbagh and an accompanying Syrian parliamentary delegation in the 29th Conference of the Arab Inter-Parliamentary Union, MP Qais Ziadin told The Jordan Times.
The conference will be held in Amman on March 3-4 under the title "Jerusalem is the eternal capital of Palestine".
Ziadin said that the invitation to Sabbagh came from the union, but "Jordan has lobbied and pushed towards inviting Syria".
In January, Senate President Faisal Fayez and Lower House Speaker Atef Tarawneh received Syria's bar association chief and member of the Syrian People's Assembly, Nizar Skeif, and his accompanying delegation.
In addition to being a Syrian lawmaker, Skeif is a member of the Damascus delegation in the Astana talks and the committee tasked with drafting a new constitution for the country.
During the Syrian delegation's visit to the Kingdom, Tarawneh delivered the invitation to the parliamentary summit to Sabbagh on behalf of the union.
The parliaments of Jordan and Syria have exchanged several visits in recent months, in an attempt at restoring ties following the reopening of the Jaber-Nasib border crossing between the two countries after three years of closure, to facilitate the return of trade flow to pre-2011 levels.
In January, Jordan appointed an acting chargé d'affaires at its embassy in Damascus, "consistent with Jordan's position since the crisis in Syria erupted in 2011 to keep the embassy in Damascus operational", according to the Foreign Ministry.
Syria also kept its mission in Amman open, and run by a chargé d'affaires.
Newsletter
Get top stories and blog posts emailed to you each day.