You are here
Syrians' reluctance to work in industrial sector threatens future of 'rules-of-origin' deal with EU
Stakeholders debate issue, suggest tactics to ensure Syrian manpower quota is reached
By Mohammad Ghazal - Nov 22,2016 - Last updated at Nov 24,2016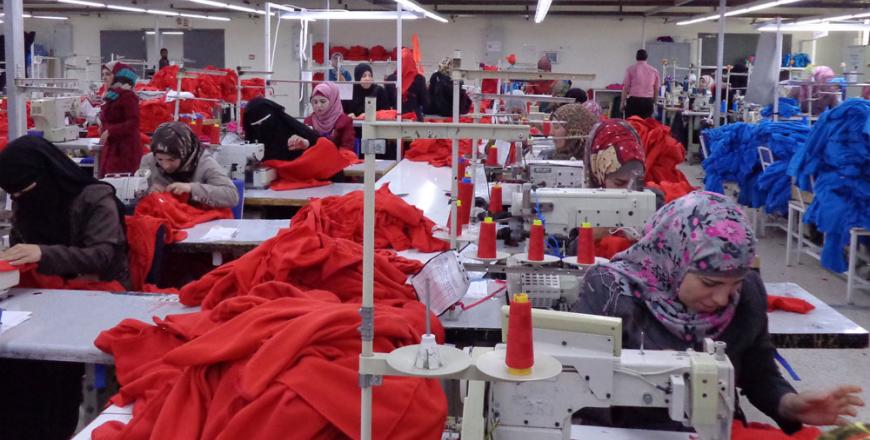 For Jordanian industries to be able to benefit from the simplified rules of origin by the EU, each factory needs to hire Syrians to constitute 15 per cent of its employees (Photo by Khaled Emrani)
AMMAN — Salem, 39, is a Syrian refugee who works in general maintenance in Jordan without an official work permit.
Registered as a refugee with the UNHCR, he earns JD400 to JD600 a month and visits whenever he can Western embassies to apply for immigration, seeking a better future for his family of four kids and his wife.
Salem, who preferred not to go by his real name, is not a Syrian refugee that Jordanian industries can benefit from to increase their exports to Europe and boost revenues, after Jordan signed a decision with the EU on "relaxed" rules of origin.
Salem does not want to get a work permit because his application to emigrate to the US is currently being processed. He said he also applied to many European embassies, encouraged by the fact that some of his relatives are already in Germany and the Netherlands.
The government hopes that the decision with the EU to relax the rules of origin will boost the country's economy through promoting investments, creating more jobs for Jordanians and increasing the performance of the industrial sector, which contributes about 25 per cent of the GDP.
However, Ziad Homsi, president of the Amman Chamber of Industry, believes that Syrian refugees' turning down jobs in factories is hampering the implementation of the decision and is actually putting the deal in danger if no serious and feasible measures are taken to encourage Syrians to work in the designated industrial estates that benefit from the eased trade restrictions.
For Jordanian industries to be able to benefit from the simplified rules of origin by the EU, each factory needs to have Syrian employees constituting no less than 15 per cent of its manpower. The rate will be increased to 25 per cent in the third year of the agreement, Homsi noted at a gathering by the Jordan Strategy Forum on Tuesday.
"One of the major problems that we face is that our factories are unable to find skilled Syrians who are willing to work in the development zones, so we can harvest benefits from the new rules," said Homsi at the event.
"Syrians who work in the industrial sector can receive high salaries based on their experience… but many have concerns that they will lose their refugee status and aid that they get from international agencies," he said.
Besides, "many Syrians do not think of staying in Jordan and aspire to leave to Europe", he added.
Salem said he had worked in several factories in Syria for more than 19 years, but his priority is to "secure a better life in a Western country". That is why freelancing is so convenient and "priceless" to him.
Under the decision, Europeans have allowed made-in-Jordan products to utilise more than 70 per cent of production inputs from non-local materials.
A total of 18 industrial and developmental zones are included in this move, while the relaxed rules will also be applied to other industries across the Kingdom once 200,000 jobs for Syrian refugees are created and when those Syrians are issued work permits.
The problem is that only 33,000 Syrian refugees have obtained work permits, out of the eligible hundreds of thousands, according to Yousef Shammali, secretary general of the Ministry of Industry, Trade and Supply, in his remarks at Tuesday event.
Aware of the problem, the government announced Tuesday plans and incentives for Syrians to join the industrial sector.
The EU decision goes into effect as of January and "one company has so far filed an application to export and benefit from the new rules", Shammali said.
"Syrians are afraid that if they obtain work permits, they would lose the refugee status and other cash aid they receive… there is a need for clear reassurances and guarantees from the government, the UNHCR and the EU that those refugees will not face any change in their status, the official said.
Jordan is planning to grant work permits for Syrian refugees to work in the industrial sector for 3-5 years, as the permit to work in this sector is currently valid for one year only, Shammali added.
Jordan is also "seriously" considering the establishment of satellite factories closer to areas and camps where the refugees live, to encourage them to work and to make it easier to transport them from their areas of residence to work and vice versa, the official said.
Unofficial estimates indicate that around 250,000 Syrian refugees work in the shadow economy.
"The EU does not count those among the 200,000 jobs that need to be created for Syrians so the relaxed rules apply to all Jordan," said Homsi.
UNHCR's deputy representative to Jordan, Paul Stromberg, said there is a need for more efforts to educate Syrians on the available opportunities.
"Getting a work permit is not a dissuasion here. We did a survey and only 2 per cent of Syrian refugees had fears that they might lose their refugee status and entitlements if they get work permits," Stromberg said at the event.
Only 30,000 of the Syrian refugee families registered with the agency are considered most vulnerable and thus receive cash assistance, he noted.
"One issue is that it is hard to retain Syrians at low pay," he said, adding that some families are supported by women who prefer to work from home.
He added that more awareness is needed.
Jordan Strategy Forum's president, Omar Razzaz, called for using the ID cards issued by UN agencies or the Interior Ministry as a work permit to simplify the process and increase the number of those Syrians who have work permits, as many are unable to work in development zones.
It is also important to develop an export house that will help Jordanian industries by connecting them with partners in Europe, exploring potential and acquainting them with all needed information to benefit from the EU decision.
EU representatives at the event said the EU decision is favourable to Jordan and that it took an effort to convince member states to agree to it, as such decisions are usually given to low-income countries and Jordan is a medium-income state.
The EU is planning to hold a business-to- business meeting in Brussels in January to highlight opportunities for Jordanian industries and meet with potential buyers, Ibrahim Laafia, head of cooperation at the EU delegation to Jordan, said at the meeting.
He added that the EU will also work on attracting investors to Jordan, adding that the EU has plans to provide technical support to Jordanian businesses to develop their products.
French Ambassador to Jordan David Bertolotti said the "EU deal is very favourable to Jordan. There are problems but there are opportunities".
"I know the unwillingness of the Syrian refugees is an issue but there are examples of success... It is doable and we have to help Jordan engage in aggressive marketing," said the French diplomat.
He added that since Jordan is seen as a player in the service sector, there is a need for more efforts to highlight what Jordanian industries can offer and their products.
"The capacity of the Jordanian textile sector is not clear to European companies…There is a need to further know what Jordan can deliver in many sectors," he added.
Speaking at the event, Dutch Ambassador to Amman Paul van den IJssel said there is a need to make the deal work.
He stressed on the key role the private sector can play in engaging with partners in Europe.
"We also need to make the existing investments work as one bad story is more dangerous than all the strategies you have," said the Dutch diplomat.
Related Articles
Jul 24,2017
AMMAN — As only two Jordanian companies have so far benefitted from the 2016 EU relaxed rules of origin deal for Jordanian exports to Europe
Apr 27,2018
AMMAN — Jordan on Thursday said it submitted a request to the European Union demanding the inclusion of agricultural industries and products
Dec 05,2016
AMMAN — The reluctance of Syrian labourers to work in the industrial sector is a hindrance for the Kingdom to benefit from the deal with the
Newsletter
Get top stories and blog posts emailed to you each day.