You are here
Tawarneh says 'Jewish nation-state' law exposes Israel's 'racism'
Lower House speaker calls for unified Arab position during 28th extraordinary session of the Arab Inter-Parliamentary Union
By JT - Jul 21,2018 - Last updated at Jul 22,2018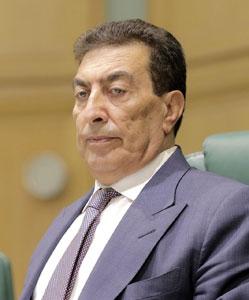 Lower House Speaker Atef Tarawneh condemned the Knesset's approval of the 'Jewish nation-state' bill on Friday (Photo by Osama Aqarbeh)
AMMAN — Lower House Speaker Atef Tarawneh on Friday condemned the Israeli Knesset's recent approval of the "Jewish nation-state" bill, saying the law sheds light on the Israeli racism, confiscates more Palestinian rights and proves that the Israeli government and the Knesset seek to ignite conflicts in the region.
During remarks to the press, Tarawneh noted that the legislation is another racist law by the Israeli Knesset that targets all efforts aimed at reviving the peace process. "It is a proof to the international community that Israel's acts threaten the peace and stability of the entire region."
Israel's parliament on Thursday passed a law defining the country as the nation state of the Jewish people, provoking fears it could lead to blatant discrimination against Arab citizens, Agence France-Presse reported.
The legislation makes Hebrew the country's national language and defines the establishment of Jewish communities as being in the national interest.
Arabic, previously considered an official language, was granted only special status.
Jordan has condemned the Israeli Knesset's endorsement of the law on Thursday.
Minister of State for Media Affairs and Government Spokesperson Jumana Ghunaimat explained that the new law consolidates apartheid in Israel and the occupied territories and blatantly contradicts international law as well as international norms and conventions, the Jordan News Agency, Petra, reported.
Foreign Minister Ayman Safadi said on his Twitter account on Thursday that the law is a violation of international law and human rights, and that the adoption of the bill consolidates discrimination.
"It is an act that will further fuel tension. International community must stand against it as yet another measure that threatens security, stability," Safadi tweeted.
Meanwhile, Tarawneh on Saturday called on Arab parliaments to adopt a clear stance rejecting all types of unfair settlement to the Palestinian issue and supporting the rights of Palestinians.
The speakers' remarks came during the 28th extraordinary session of the Arab Inter-Parliamentary Union, currently held in Cairo, which focuses on the latest developments in Gaza and the Palestinian territories, as well as the repercussions of the unilateral US decision to relocate its embassy to Jerusalem.
The Lower House speaker stressed that safeguarding Islamic and Christian holy sites in Jerusalem and applying the international law in the face of Israeli violations is a "Jordanian duty" based on the Hashemite custodianship over these holy sites, the Jordan News Agency, Petra, reported.
He stressed that Jordan will "never abandon its role" in protecting Jerusalem's holy sites, according to Petra.
Tarawneh expressed rejection of the "deal of the century" and any settlements that neglect the legitimate rights of Palestinians and disregard the Jordanian role in the Hashemite custodianship over Islamic and Christian sites in Jerusalem, according to Petra.
Newsletter
Get top stories and blog posts emailed to you each day.