You are here
'Theeb' cast, crew hailed for 'landmark' Oscar nomination
By Muath Freij - Feb 29,2016 - Last updated at Feb 29,2016
Director Naji Abu Nowar and actors Jacir Eid and Hassan Maraaiah pose for a photo on the Oscars red carpet in Los Angeles on Sunday night (Photo courtesy of Bayt Al Shawareb/Noor Pictures/Immortal Entertainment)
AMMAN — Although Jordanian film "Theeb" did not win the Oscar this year for best foreign motion picture, the fact that it was nominated is an honour in and of itself, Jordanians said on social media on Monday.
The Hungarian Holocaust film "Son of Saul" snatched the Academy Award instead. Other nominees included Danish-Afghan conflict drama "A War", Colombia's "Embrace of the Serpent" and the Turkish-French-German "Mustang".
"An epic film, a brilliant team, and a beautiful adventure! @TheebFilm proud of you for taking #Jordan to the #Oscars," Her Majesty Queen Rania tweeted after the Oscar ceremony.
HRH Prince Ali, chairman of the Royal Film Commission's board of commissioners, also voiced his pride in the film's cast and crew.
"Congratulations to all who worked on Theeb; You didn't come home with the Oscar but you are our Jordanian stars! You make us all so proud," he tweeted.
The RFC's official Twitter account also quoted HRH Princess Rym Ali, RFC's executive commissioner, as saying: "Theeb's journey is one of success that made Jordanians proud. Thanks to Theeb's team for having taken us all to the Oscars!"
Hours ahead of the 88th Academy Awards ceremony, many Jordanians started sharing photos of the film's cast and crew on the red carpet.
Others said that even the film did not win the Oscar, it remains a big hit because it has won many awards and reached such an advanced stage.
Since its release in international film festivals in August 2014, "Theeb", directed and co-scripted by Naji Abu Nowar, has been screened in 25 countries, won 18 awards, including Best Director at the Venice Film Festival, according to the movie's distributor, MAD Solutions.
Earlier in February, Abu Nowar and producer Robert Lloyd won the British Academy of Film and Television Arts Award for Outstanding Debut by British Writer, Director or Producer.
The feature, a coming-of-age tale set in the Arabian Desert of 1916, is the first Jordanian film to earn an Oscar nomination.
Hassan Azmi Hijazi posted on Facebook that the movie is a source of pride for him and his fellow Jordanians.
"Hard luck #Theeb you make us #Proud!" he added.
Nawal Sbool said the movie provided a space for Jordanians to showcase their potential to the whole world.
"Theeb [opened] a door for all Jordanian talents... That by itself is much bigger than an Oscar!" she wrote on Facebook.
The film, co-written by Bassel Ghandour, follows Theeb, a young bedouin boy, and his brother Hussein as they leave the safety of their tribe to venture on a treacherous journey at the dawn of the Great Arab Revolt.
Abed Salamehh (@Abdsalamehh) said having a Jordanian film reach the Oscars is a successful achievement.
"I'm just going to say that being nominated for an Oscar is a big deal for every actor and director so I'm proud of #Theeb cast no matter what," he tweeted.
Related Articles
Mar 03,2016
AMMAN — Culture Minister Lana Mamkegh and several Jordanians received cast members of the Oscar nominated film "Theeb" at the Queen Alia Int
Feb 25,2016
AMMAN — As the cast members of the Oscar-nominated Jordanian film "Theeb" anxiously await the 88th Academy Award ceremony on Sunday night, s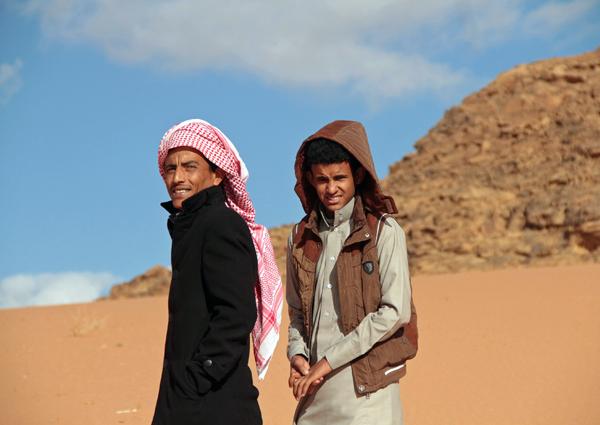 Jan 13,2016
SHAKRIYEH, Southern Badia — For the amateur cast of acclaimed Jordanian film "Theeb" from a bedouin clan and for two young Jordanians writin