You are here
Third tranche of fuel compensation cancelled
By Omar Obeidat - Nov 27,2014 - Last updated at Nov 27,2014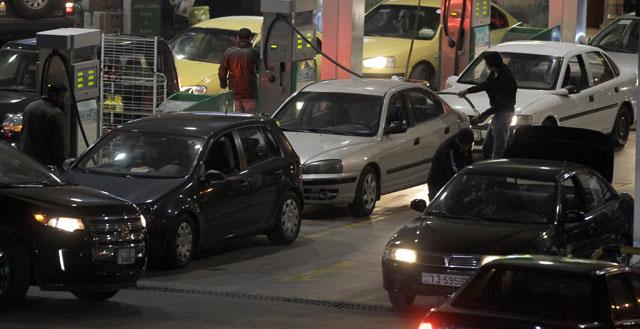 AMMAN – The government will not disburse the third tranche of cash payments to households in compensation for removing fuel subsidies, as international oil prices have been below $100 a barrel for more than two months, a government official said Thursday.
Income and Sales Tax Department Spokesperson Musa Tarawneh said the third tranche of targeted fuel compensations was supposed to be distributed in December, but as the price of crude oil in the global market has been less than $100 a barrel for over two months, the tranche will be cancelled.
Terminating the third tranche will save the Treasury around JD70 million as the government allocated JD210 million in direct cash compensation for fuel this year, Tarawneh told The Jordan Times over the phone.
During a meeting with chief editors of dailies and columnists on Thursday, Prime Minister Abdullah Ensour noted that when the government adopted the targeted subsidy system for fuel two years ago, it announced that the cash payments will be terminated if oil prices fall below $100 per barrel, because prices of fuel products in the domestic market will be affordable to all income segments.
The direct financial assistance system, disbursed over three instalments, was implemented after the government's decision to lift fuel subsidies in November 2012.
Under the currently implemented system, each individual from households that consist of six members or less, and whose income is less than JD800 a month or JD10,000 a year, is entitled to JD70 annually to compensate for the price increases.
Official figures estimate that around 70 per cent of Jordanians are eligible to benefit from the cash support.
The government issues a monthly pricing update for fuel products based on the price of oil in the global market.
Bread subsidy
At Thursday's meeting with the press, Ensour also talked about the government's intentions to find a mechanism to remove the subsidy on flour used for making bread that would not affect Jordanians.
Noting that the government imports a tonne of wheat for JD350 and sells it to bakeries and mills for JD30, he explained that the mechanism seeks to reduce the wastage of bread and the misuse of subsidised flour, which in some cases is sold and used as fodder for animals.
Foreigners residing in Jordan, estimated at over 2.5 million, also benefit from the bread subsidy.
"We need to find a mechanism that would compensate Jordanian households for the rise in prices," the premier said, indicating that the cost of the flour subsidy is around JD200 million a year.
"This should not continue," he said, but added that raising bread prices is not on the government's political agenda at present, although it is economically correct.
Related Articles
Aug 04,2014
The Ministry of Finance has started preparations to distribute cash payments under the second tranche of the targeted fuel compensation to low- and medium-income Jordanians for this year, a government official said Monday. 
Sep 14,2014
Around 162,152 families had received the second tranche of cash payments replacing fuel subsidies by Saturday, the Income and Sales Tax Department said Sunday.
Apr 07,2014
Experts are mulling new subsidy mechanisms for bread that should target Jordanians only, with a system similar to that applied to fuel cited as a strong candidate.  
Newsletter
Get top stories and blog posts emailed to you each day.