You are here
IS threatens to kill Jordanian, Japanese hostages if terror convict not released
By Khetam Malkawi - Jan 27,2015 - Last updated at Jan 27,2015
AMMAN — Authorities were verifying the authenticity of a video recording released on Tuesday, in which the so-called Islamic State (IS) threatened to kill Jordanian pilot Muath Kasasbeh and Japanese hostage Kenji Goto if Jordan does not release convicted terrorist Sajida Rishawi within 24 hours.
The video released on Tuesday shows Japanese hostage Goto, held by IS, holding a picture of the Jordanian pilot who was taken hostage by the terrorist group, after his jet crashed in December, with a voice saying that he (Goto) and Kasasbeh will be killed if Jordan does not free Rishawi.
A military source late on Tuesday said authorities were checking the authenticity of the recording attributed to IS.
In brief remarks to the press after he left a House meeting, Prime Minister Abdullah Ensour said the message in the video does not make it clear if the pilot would be released.
Officials contacted by The Jordan Times declined to comment on the issue as the case was of a sensitive security nature handled by a specialised team.
The government spokesperson Mohammad Momani and the Jordan Armed Forces-Arab Army's Spokesperson Col. Mamdouh Ameri added nothing to a brief statement carried by the Jordan News Agency, Petra, echoing the same message.
The family of Kasasbeh also declined to comment on the development when contacted by The Jordan Times, while their tribe met in a diwan (tribal meeting place) in Amman and then reportedly signed a statement demanding the government declare its position on the ultimatum given by IS.
However, in remarks made before the reported release of the video, MP Bassam Manaseer, head of the House's Foreign Affairs Committee, sounded optimistic. He told The Jordan Times that a third party including tribal leaders and scholars from Iraq and Syria were mediating, adding that IS' move was propaganda before a deal is announced.
"They want to show they are strong and have the upper hand. I expect a deal to be announced soon," the lawmaker said.
Tuesday's video was the second message that IS released this week, as they issued one on Saturday in which the terrorist group linked Goto's fate with the release of Rishawi.
The convict is an Iraqi woman who was captured in connection with a failed suicide bombing in one of the three hotels targeted in the 2005 Amman bombings.
She was supposed to detonate an explosive belt after another terrorist blew himself up, in an orchestrated Al Qaeda attack that killed more than 60 people. Rishawi is currently on death row.
Related Articles
Jan 28,2015
Social media websites were flooded Tuesday with pictures of Jordanian air force pilot Muath Kasasbeh, held captive by the so-called Islamic State (IS) group, with hundreds of comments describing him as a "national hero".
Feb 04,2015
Jordan on Wednesday executed two terror convicts, Sajida Rishawi and Ziad Karbouli, hours after the so-called Islamic State (IS) released a video showing Jordanian pilot Muath Kasasbeh being burnt alive.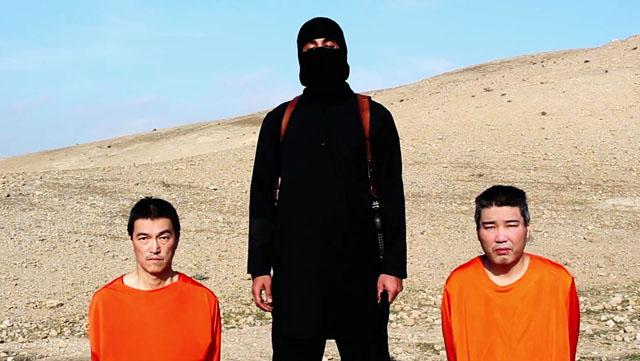 Jan 24,2015
Authorities were on Saturday verifying the authenticity of a video purporting to have been released by the Islamic State (IS), announcing it had killed one of two Japanese hostages they were holding and demanding that Jordan free an Iraqi female terrorist in return for the other hostage. 
Newsletter
Get top stories and blog posts emailed to you each day.