You are here
Thriving arts scene sends Jordan's message of peace amid regional chaos
Culture offers opportunity for connection, festival organiser says
By Muath Freij - Sep 11,2016 - Last updated at Sep 11,2016
Since the beginning of summer, a wide variety of shows and festivals have been held across the Kingdom, ranging from dance performances to modern and classical music shows (Photo by Muath Freij)
AMMAN — The variety of musical shows staged in Jordan over the summer is a reminder of the importance of art amid regional chaos, and showcase the active cultural life of the Kingdom, organisers say.
Festival organisers and artists recently interviewed by The Jordan Times stressed the importance of cultural activities to bring communities together and send a message of peace during difficult times in the region.
Since the beginning of summer, a wide variety of shows and festivals have been held across the Kingdom, ranging from dance performances to modern and classical music shows.
Renowned international artists, including Spanish singer and Grammy award winner Enrique Iglesias, Greek composer and producer Yanni, Lebanese oud player Marcel Khalife, Iraqi singer Kadhim Al Sahir, Lebanese singer Omaima Khalil and the Rahbani brothers, have performed or are scheduled to perform in the Kingdom.
Somika Basu, a spokesperson for the Friends of Jordan Festivals (FJF), said that art and culture is sometimes ignored during times of political upheaval.
"But we at FJF feel that the most important thing is to celebrate culture, dance, music, poetry and storytelling," she told The Jordan Times at FJF's offices in Amman.
Culture offers an opportunity for connection, the spokesperson said.
"Everybody appreciates good music; everybody recognises a good dance; everybody appreciates beauty, so this is the one thing that we all have in common, but unfortunately, in difficult times, it is the first thing to disappear from our life," Basu said.
It is important to brand Jordan as a stable, secure and cultured country in the midst of the chaos, she added.
"I think it sends a good sign to the whole world when you have international performers such as Yanni choosing to come to Jordan."
Juman Obeidat, of iJordan's public relations department, said that when a country like Jordan hosts famous artists like Iglesias, this helps promote the country and demonstrates its stability.
Basu said festival goers might feel conflicted about celebrating art and life, given the instability in neighbouring countries.
"The first thing we leave in such conditions is joy and art. Maybe because of guilt, people get confused [and] start thinking, 'Should we go out? Is it right?' Because everyone is suffering around us.
"But, you know, everybody has to live his/her life. You cannot live in fear, so it is a positive message when international artists come to Jordan and it indicates a very healthy economy and social cultural life," she noted.
Abdul Hameed Shoman Foundation CEO Valentina Qussisiya said cultural activities help produce positive feelings in the community.
"It is part of the public culture and it forms a social identity for a specific community," she noted.
Fadi Baadali, a singer in the Syrian folk group Salateen Al Tarab, said musical performances provide the opportunity to show people the true identity of eastern music and help preserve it.
"We also want to send a message of peace through such activities," he told The Jordan Times in an interview ahead of the group's performance in Fuhais.
Lebanese singer Khalil said music is important to reduce tension.
"We are aggressive without holding weapons, so hosting as many activities as possible helps people stop being aggressive," she told The Jordan Times.
Celebrating archaeological sites
Many of the activities that have been hosted in the Kingdom were organised at archaeological sites and tourist destinations in Jordan.
Jerash, Little Petra, the Roman Theatre, Amman Citadel and the Dead Sea have provided stages for many of the summer's events.
Basu said the FJF decided to hold a festival at Amman Citadel this month because they wanted to make Jordanians proud of their heritage, culture and history.
"I think when you bring in a live performance at a very old archaeological site, it gives new life to the place. It makes it exciting for Jordanians and it will be a good opportunity to brand Jordan as an entertainment destination," she added.
Basu said these activities bring the contemporary and the ancient together.
The beauty of the site is showcased, and the concerts encourage people to become more aware of their history and culture, she added.
For Qussisiya, concerts at ancient sites strengthen the bond between Jordanians and their heritage.
Obeidat agreed, adding that these festivals help encourage tourism to the Kingdom.
"This helps put Jordan on the tourism map of the world," she added.
Related Articles
Jul 28,2016
AMMAN — The Kingdom will host bands and international artists to promise Jordanians and tourists "a summer to remember", organisers and tour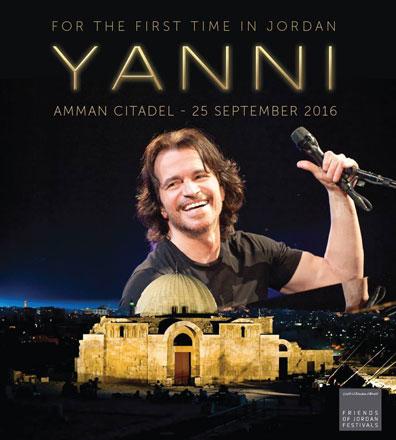 Jul 31,2016
AMMAN — The renowned Greek composer and pianist Yanni will perform for in Jordan in September to close a festival at the Amman Citadel.&nbsp
Nov 24,2016
AMMAN — Jordan will host Egyptian actor and singer Mohamed Mounir on December 16 at Amman Arena, according to organisers.Mounir, with a musi
Newsletter
Get top stories and blog posts emailed to you each day.