You are here
Tillerson: Mideast peace plan waiting for Trump's nod
By Mohammad Ghazal - Feb 14,2018 - Last updated at Feb 14,2018
AMMAN — US Secretary of State Rex Tillerson said on Wednesday that work on a new Middle East peace plan is "fairly well advanced", stressing on Jordan's key role in peacemaking in the region.
The US official, who emphasised that Jordan plays a unique and positive role in attaining Mideast peace and it was important to continue to pursue a lasting peace, reiterated the US administration's commitment to respecting Jordan's role as the custodian of the holy sites in Jerusalem.
"I have seen the plan... It's been under development for a number of months. I have consulted with them on the plan, identified areas that we feel need further work," said Tillerson at a joint press conference in Amman with Minister of Foreign Affairs Ayman Safadi.
"So I think it will be up to the president [Donald Trump] to decide when he feels it's time and he's ready to put that plan forward. I will say it's fairly well advanced," said the US official.
Tillerson added that Trump remains committed to seeing a Middle East peace process go forward, saying: "As I indicated I think the decision taken on Jerusalem was about the United States and our recognition of Jerusalem and where we choose to place our embassy."
"But the president was clear, also in his statement and as I just indicated in my statement, that the final status, the final borders in Jerusalem are up to the parties to decide. So it does not preclude a two-state solution if that is the solution the parties seek, the US would support that," Tillerson said.
For his part, however, Safadi stressed that the two-state solution that ensures the creation of an independent Palestinian state at the borders of 1967 with East Jerusalem as its capital is the sole path to peace.
"Our views are different via Jerusalem, but the challenge now is how to move forward and how to make sure a difficult situation does not get worse," Safadi told reporters.
He added that Jordan was looking forward to continuing to work with the US and the international community to achieve the envisioned lasting peace.
"When we say we want peace, we say we want comprehensive, and lasting peace… For peace to be lasting and comprehensive it has to be accepted by the people and to be accepted, it has to realise the legitimate rights of the Palestinians to have a state on their national soil," said Safadi.
"What is the alternative?...The alternative is a one state solution..
And if it is a one state solution, is it going to be an apartheid or a democratic state?" asked Safadi.
He stressed that the only viable option is the two-state solution and that solution is under threat as unilateral actions by Israel are undermining chances to implement it, Safadi said.
"We cannot give up…we will continue to work with the US because we believe in the key role of the US."
Talks between the two sides, they told reporters, also focused on the situation in Syria and efforts to attain a political solution in the country.
Discussions also covered the war on terrorism and efforts eradicate Daesh.
Related Articles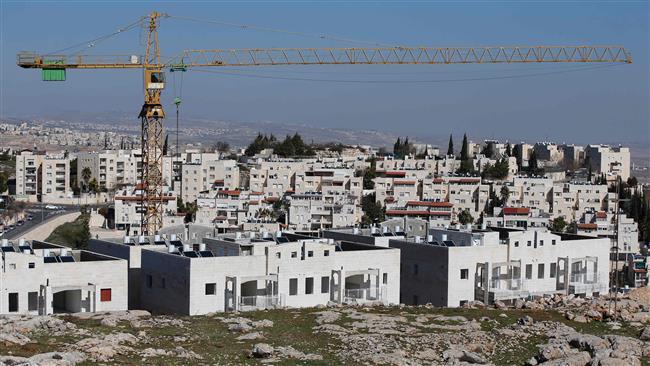 Jan 13,2018
AMMAN — The government on Friday voiced its condemnation of recently announced Israeli plans to build more settlements on occupied Palestini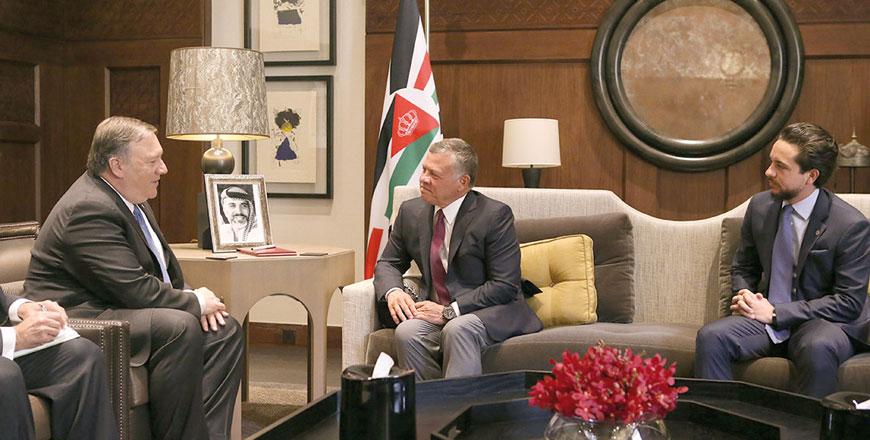 May 01,2018
AMMAN — His Majesty King Abdullah, accompanied by HRH Crown Prince Hussein, received US Secretary of State Mike Pompeo at Al Husseiniya Pala
Mar 10,2018
AMMAN — Japanese Prime Minister Shinzo Abe on Friday received Foreign Minister Ayman Safadi who delivered him a message from His Majesty Kin
Newsletter
Get top stories and blog posts emailed to you each day.