You are here
Today's investment in education is tomorrow's economy — Razzaz
By JT - Jun 20,2018 - Last updated at Jun 20,2018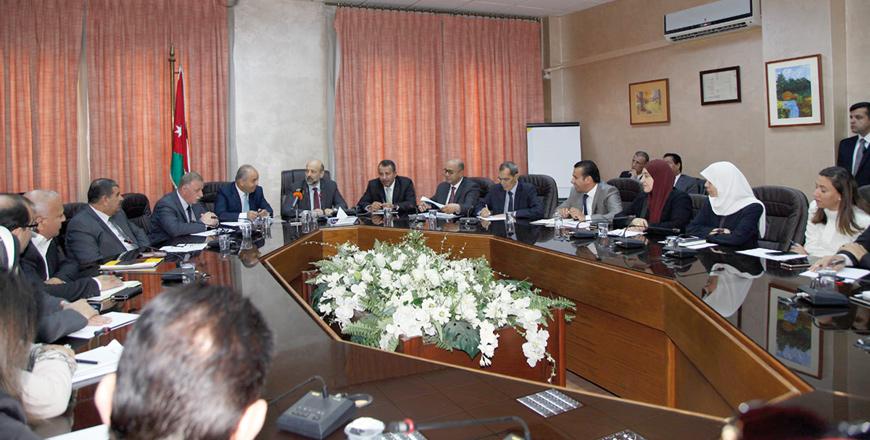 Prime Minister Omar Razzaz meets wiht Education Minister Azmi Mahafzah and members of the ministry's central planning committee at the Education Ministry on Wednesday (Petra photo)
AMMAN — Today's investment in education is tomorrow's economy and developing education paves the way for a better future for coming generations, Prime Minister Omar Razzaz said on Wednesday.
During a visit to the Education Ministry and meeting with Education Minister Azmi Mahafzah and members of the ministry's central planning committee, Razzaz said that education is key to addressing the economic and political issues, the Jordan News Agency, Petra, reported.
He highlighted the importance of integrating activities, mainly educational, at schools, as a main component of the educational process, expressing hope for the ministry to continue development projects and initiatives that fall under the National Strategy for Human Resources Development.
The premier also stressed the significance of paying more attention to improving the educational environment and developing schools' conditions and facilities, which, in many occasions, deter students from good engagement.
"This is a very important issue that reflects the government's commitment to providing citizens with high quality services," Razzaz underscored, calling for taking necessary measures to increase the number of children joining kindergartens and build more classrooms to keep pace with the ministry's plans and projects focusing on the pre-school phase.
The premier directed stakeholders to focus on students' low performance in the English language, which requires increasing the efficiency of English teachers, reviewing curricula and focusing on applying scientific courses in an interactive manner.
Razzaz was then briefed on work progress at the ministry's projects, including the vocational education, e-services, school nutrition and excellence and renewable energy, among others.
For his part, Mahafzah welcomed Razzaz's visit, the first to a ministry since the premier's formation of the government, stressing that "challenges require benefiting from creative employees to continue realising qualitative achievement at the ministry".
Newsletter
Get top stories and blog posts emailed to you each day.