You are here
Together for peace: Syrian refugees train Jordanians in technical skills
Oct 14,2017 - Last updated at Oct 14,2017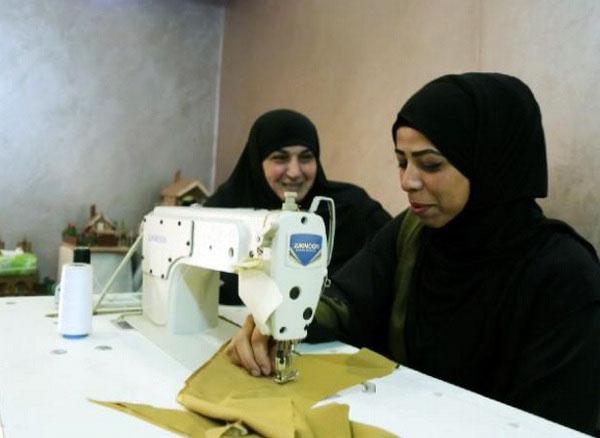 The UNDP programme allows experienced Syrian refugees to train young Jordanian women and men in various technical skills (Photo courtesy of UNDP website)
AMMAN (UNDP) — "I have gained my neighbourhood's trust," Maha Tilawi, a Syrian from Homs said with a smile.
The conflict in her home country forced her to leave her home and seek refuge in neighbouring Jordan. The 51-year-old tailor lost one of her sons in the war and is now the sole provider for her family of eight.
In the beginning, Maha recalled, she was nervous about being accepted by the Jordanian community. But, with 35 years of experience in tailoring, she knew she had something to offer. She joined a skills exchange programme to help young Jordanian women learn the trade.
"When I first joined the training, I was very nervous about dealing with Jordanians due to some negative past experiences, but, a few days later, I started to make friends," she said.
Through the UNDP programme, experienced Syrian refugees train young Jordanian women and men, strengthening their skills and employability. With this personal interaction and knowledge sharing, prejudice and fear give way to business relationships and friendship.
"The project has helped me gain the neighbourhood's trust," Maha said. "No one came to me for tailoring jobs before, but, after they heard about my participation in UNDP's skills exchange project as a mentor, they started to approach me for complicated tailoring jobs."
She is not only teaching but also learning through the programme, brushing up on her own technical skills in the process.
Al Zeina Salem is Maha's mentee. A Jordanian woman in her early 20s, she is passionate about fashion, and her dream is "to expand our one-door shop into two". The tailoring shop was made possible by the financial incentives Zeina and her partner received for their participation in the project.
Zeina is determined to continue working with her mentor. "I will never let go of Maha, she has so much experience and besides, we're very good friends now," she said.
Islam Zu'bi is another Jordanian mentee in the skills exchange project. "All the Syrian trainers were very cooperative," she said, adding "whenever my mentor was busy, everyone else was ready to help me".
"We became one family, there was no Jordanian and Syrian, we were one," Islam stated.
As of August 2017, Jordan hosted more than 650,000 registered Syrian refugees. The skills exchange between Jordanians and Syrian refugees in Mafraq and Irbid governorates is funded by the government of Japan and the European Union in collaboration with the World Food Programme and the National Microfinance Bank. To implement the project's activities, UNDP works with Jordanian partners Business Development Centre, Al Quds College and Migrate.
Related Articles
Sep 28,2017
AMMAN — The United Nations Development Programme (UNDP) has held a graduation ceremony for participants in the recently concluded programme
Nov 09,2017
AMMAN — A year after the UN Foundation's Global Entrepreneurs Council (GEC) visited Jordan to study its entrepreneurial ecosystem, Mara Foun
Oct 16,2016
AMMAN — Home of the largest Syrian refugee camp since the civil war broke out in 2011, Mafraq, 80km northeast of Amman, has become an oasis
Newsletter
Get top stories and blog posts emailed to you each day.