You are here
A tooth for an eye: Historic surgery helps blind man regain sight
By Renad Aljadid - Apr 12,2018 - Last updated at Apr 12,2018
Ophthalmologist cornea specialist Nancy Al Raqqad works on the implant created following an innovative medical procedure (Photo courtesy of Nancy Al Raqqad)
AMMAN — After spending over 15 years in the dark, 61-year-old Naeem Mayyas saw the light again last week, after he underwent the "Tooth in Eye Surgery" which helped him regain his lost sight, the Jordan News agency, Petra, reported on Wednesday.
"Opening my eyes and being able to see my family again was one of the greatest moments of my life," Mayyas told The Jordan Times on Thursday.
The surgery, which took place at Al Hussein Medical City, was performed by medical couple Nancy Al Raqqad, an ophthalmologist cornea specialist, and Zaid Al Zoubi, a maxillofacial surgeon.
According to Raqqad, the patient was suffering from ocular cicatricial pemphigoid (OCP), a rare chronic autoimmune disorder that could not be healed with regular corneal transplant surgeries, but instead required this "unique technology" which helps restore vision in the most severe cases of corneal and ocular surface.
Suffering from OCP caused Mayyas to become entirely blind in his right eye and with blurry vision on his left, he explained.
"I have been visiting hospitals and consulting doctors since 1967, and I underwent three surgeries before this one," Mayyas said, adding "I was patient and calm through the entire suffering, and I am glad that my patience paid off with the successful results and the beautiful sights I am enjoying now."
The medical procedure he underwent, osteo-odonto-keratoprosthesis (also known as "tooth in eye" surgery), includes the removal of a tooth from the patient, after which a lamina of tissue cut from the tooth is drilled and the hole is fitted with optics. The lamina is grown in the patients' cheek for a period of months and then is implanted upon the eye, according to Raqqad.
Due to his diabetes, Mayyas' "worn teeth" constituted a major obstacle for the maxillofacial surgeon.
"My son, Saleh, recommended donating one of his teeth instead of me. Doctor Zaid welcomed the idea and it worked," Mayyas explained.
Raqqad said she and her husband learned this technique during a training in the UK.
"I was there along with other ophthalmologists from the Arab region willing to be trained on performing this surgery," she told The Jordan Times, noting that the training requires the cooperation between an ophthalmologist and a maxillofacial surgeon. "By chance, this was the specialisation of my husband Zaid," Raqqad said.
"Other doctors, who did not receive the training with an accompanying maxillofacial surgeon, were not able to carry out the surgery when getting back to their country," she noted.
"We received the training together hoping to be able to apply it in Jordan. We already performed this surgery once and this is the second time that we obtain a successful result," she explained.
Mayyas voiced his appreciation for the two surgeons and the entire medical staff at Al Hussein Medical City. "I was not only provided with medical treatment but also hope and care," he remembered, describing what the two doctors achieved as "a long-awaited dream that has finally come true".
Related Articles
Apr 06,2017
AMMAN — The plastic surgery sector in Jordan has attracted an increasing number of clients over the last 10 years, both Jordanian and intern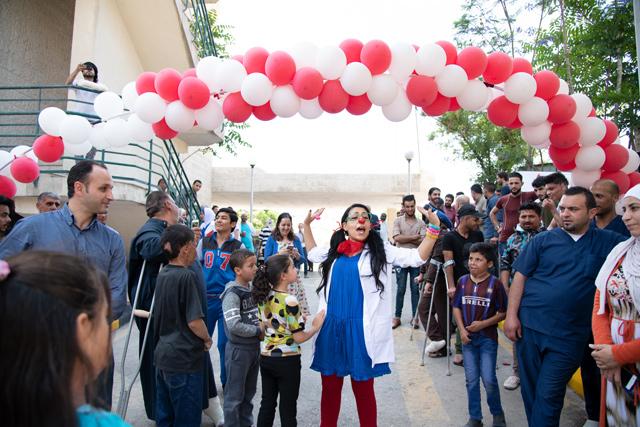 Apr 30,2018
MARKA — Victims of regional conflicts have been Medecins Sans Frontieres (MSF) Amman Reconstructive Surgery Hospital, where teams of surgeon
Jul 13,2017
AMMAN — Jordanian doctors at the King Abdullah University Hospital recently conducted a rare heart surgery on a 22-year-old Syrian refugee,
Newsletter
Get top stories and blog posts emailed to you each day.