You are here
Tourism income witnessed 10.7% decline in Q1 2020 — CBJ
By Maram Kayed - May 28,2020 - Last updated at May 28,2020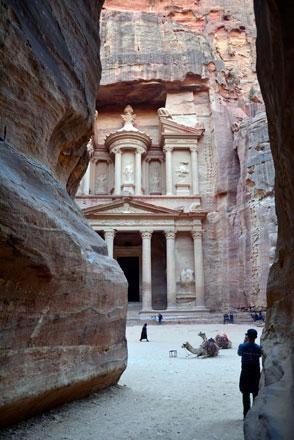 The rose-red city of Petra, some 220 kilometres south of Amman (File photo)
AMMAN — Tourism income in Jordan has declined by 10.7 per cent in the first quarter of the current year compared with the same period last year, standing at JD784 million, according to Central Bank of Jordan statistics.
On March 17, 2020, the government announced the temporary suspension of commercial passenger flights through Queen Alia International Airport, with the exception of cargo, evacuation, emergency medical supplies and maintenance flights.
The statistics thus show that tourism income has decreased by 56.5 per cent during March to reach JD132.2 million, compared with the same period last year.
"The sharp decline comes as an utter disappointment for the sector, which has been doing so well since the beginning of the year," said Monther Desi, a tour guide, in a Facebook post on the statistics.
"Raise your hand if before this pandemic you thought this year you would be fully booked in the summer because you were surprisingly fully booked in the winter," added Hamzeh Majali, another tour guide, in the comments.
Jordan's revenues from tourism income grew during January of this year by 11.4 per cent to reach JD361.8 million, according to previous data from the Central Bank.
Minister of Tourism and Antiquities Majd Shweikeh, recently recommended to the Council of Ministers a plan to "secure liquidity for the tourism sector and address the damage caused to its workers," according to a statement.
Shweikeh listed the needed reparations for the resumption of domestic tourism within the concept of "safe tourism", noting that decisions regarding that will be taken next week.
During two separate meetings held in the Ministry of Tourism and Antiquities, Shweikeh said that "there is a great understanding from the government of the sector's demands."
She added that "tourism agents, tour guides and tourism transport are among the sectors most affected by the crisis, and must be supported."
In the meeting, representatives of the sector demanded that companies and offices be exempt from licensing fees, guarantees and income tax.
Jordan's tourism income increased by 10.2 per cent last year to reach around JD4.11 billion compared with 2018.
Newsletter
Get top stories and blog posts emailed to you each day.