You are here
Tourism sector recovery still long way ahead — stakeholders
By Maria Weldali - Sep 14,2020 - Last updated at Sep 14,2020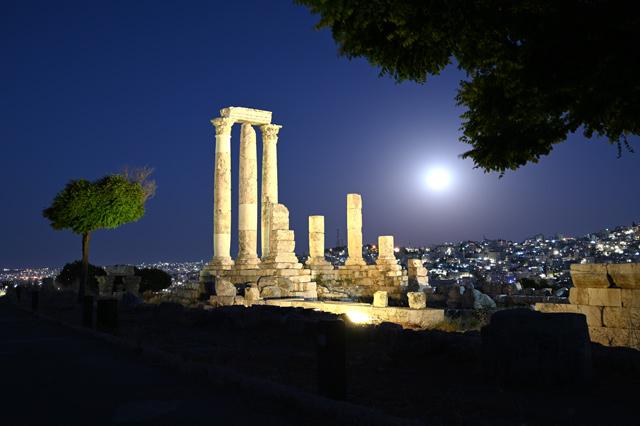 A view of the Amman Citadel. Tourism sector representatives voiced their concerns about the industry's recovery, despite the resumption of international flight operations to the Kingdom (Photo by Amjad Ghsoun)
AMMAN — Tourism sector representatives voiced their concerns about the industry's recovery, despite the resumption of international flight operations to the Kingdom.
"The impact of the pandemic is felt throughout the entire industry, therefore it is very important to have a fresh perspective to support and build a sustainable and resilient tourism sector," Head of the Jordan Inbound Tour Operators Association (JITOA) Awni Kawar told The Jordan Times on Monday.
Kawar said that all of the industry's branches have faced unprecedented setbacks, but the recovery of inbound tourism may be further delayed due to many restrictions such as the epidemiological situation, quarantine period, the development of vaccines, in addition to having to restore travellers' confidence after the crisis.
"Among the key challenges are the quarantine period and a new set of travel rules, and the most important thing to do currently is to contain the virus," Kawar noted.
"The Ministry of Tourism and Antiquities has established many strategies and solutions to liquidate bank guarantees," Kawar added
He also pointed out that the ministry's work is based on "A penny saved is a penny earned" principle, but eventually there should be a long-term solution.
Kawar said that domestic tourism has helped many tourism agencies, but has not solved the problem entirely, adding that currently sector representatives are working on developing virtual marketing infrastructure.
This new measure aims to create a "unique" experience to Jordanian tourism, giving people the opportunity to virtually enjoy a whole new travel experience to certain sites in the Kingdom, he added.
The Jordanian honorary consul in Hungary Zaid Naffa tweeted: "Inbound tourism of 2021 will not be better than this year, therefore I advise owners of tourist facilities to start planning and concentrating on domestic tourism."
Michael Nazzal, a hotelier and a tourism investor tweeted: "Even with effective vaccines for COVID-19, it could take until the end of 2021 for travel to return to normal."
Mohammad Abu Surra, director of a travel agency, told The Jordan Times recently over the phone that Jordan's tourism ecosystem is in need of a comprehensive recovery plan after the massive losses in revenues and the total closure of the sector that lasted for almost six months.
The sector is "on the brink of collapse" and the only solution is to appoint a sector representative at the Tourism Ministry, he added.
Newsletter
Get top stories and blog posts emailed to you each day.