You are here
Traffic congestion expected to ease off as end of summer season nears
By Mohammad Ghazal - Sep 03,2015 - Last updated at Sep 03,2015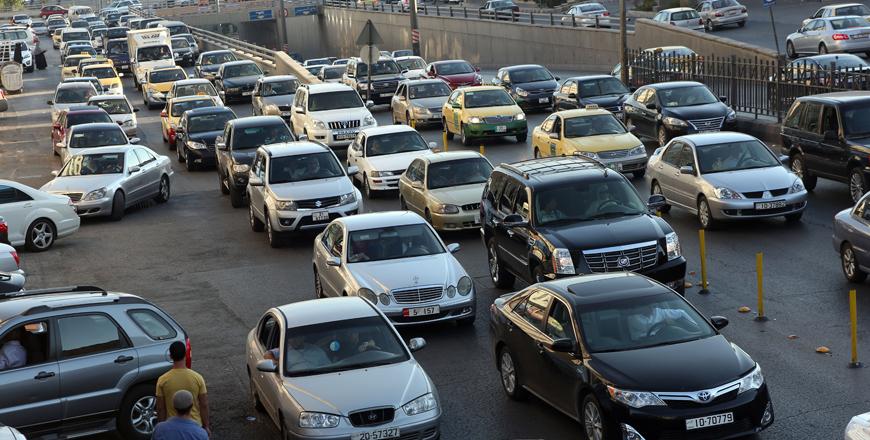 Official figures put the number of cars in Jordan, registered at the Driver and Vehicle License Department, at over 1.3 million (Photo by Osama Aqarbeh)
AMMAN — Fewer traffic jams are expected on the roads now as expatriates are returning to their work abroad and the summer season is about to be over, officials said, as motorists called for more measures to ease congestion in the early hours.
"There will definitely be a drop in traffic congestion in the upcoming period as many expatriates have returned and many tourists who come to spend the summer in Jordan returned home with the start of new scholastic year," Ayman Smadi, executive director of GAM's transport and traffic department, told The Jordan Times on Thursday.
Over the past few months, traffic jams were witnessed in different parts of the capital, especially at night, lasting at times until midnight.
"With the start of the new scholastic year in Jordan, peak hours for traffic will usually be in the morning hours," Smadi said.
"With the large number of expatriates and visitors over the past few years, traffic jams were heavily witnessed at night as people were going to cafés and restaurants. In the upcoming period, no great traffic jams are expected at night," he added.
A total of 195,226 cars entered Jordan from Saudi Arabia in June and July of this year, according to the Jordan Customs Department. Thousands of cars entered Jordan from the Gulf Kingdom in August as well.
The vehicles that entered the Kingdom in June and July, according to Smadi, were carrying around 1 million people, coming from various Gulf states such as Saudi Arabia, the United Arab Emirates, Qatar, Bahrain and Kuwait.
"It was a very busy season with lots of visitors," he said, adding that the municipality is still taking measures to address traffic jams.
Ahmad Salameh, an accountant who works at a bank in Shmeisani, voiced hope that traffic congestion will ease off, as driving from home to work and vice versa has been a "headache" over the past few months.
"I live in Jubeiha. Every day I have to drive through the Interior Ministry Circle, where traffic is always at a standstill. With the heatwaves that affected Jordan recently, it was a nightmare to drive. I hope the situation will be better now on as many expatriates have left," he said in a phone interview.
Areej Musa, a secretary at a marketing company in Rabiah and a resident of Hashemi area, said she arrived late to work several times because of traffic jams over the past period.
"I don't have a car and I use public transportation, which is not efficient at all. I had to leave home very early every day to get to work on time. But that did not always work as I arrived late several times," she said.
"The problem is that there are no lanes for public transportation vehicles and when they get stuck in traffic all passengers are late," Musa added.
Official figures put the number of cars in Jordan, registered at the Driver and Vehicle License Department, with over 1.3 million, nearly 38 per cent of which are in the capital.
Related Articles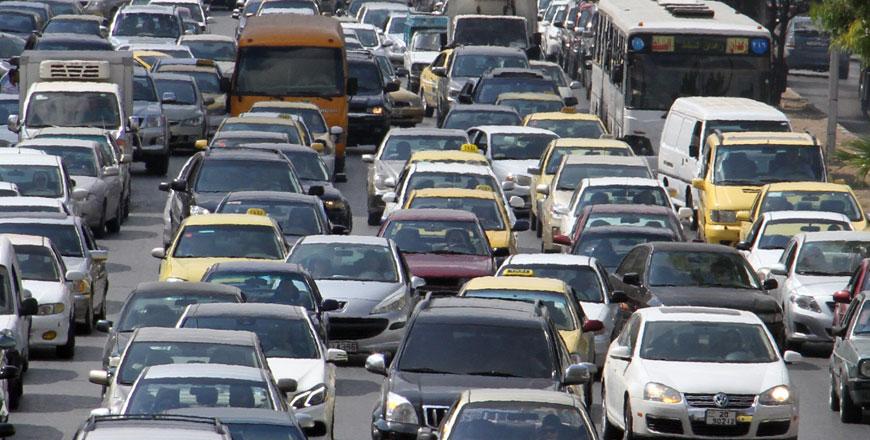 May 26,2015
AMMAN – Authorities are gearing up to receive tens of thousands of visitors from the Gulf region during the summer, with Greater Amman Munic
Jun 06,2015
AMMAN — The Greater Amman Municipality (GAM) is planning to close some areas to cars during Ramadan in a bid to preserve the "spirit" of the
Mar 14,2016
AMMAN — The Greater Amman Municipality (GAM) has started implementing what officials describe as "traffic solutions" to curb gridlocks in th
Newsletter
Get top stories and blog posts emailed to you each day.