You are here
'Truck movement to Iraq halted over security concerns'
By Mohammad Ghazal - Jul 08,2014 - Last updated at Jul 08,2014
AMMAN — Transporting goods and commodities to Iraq via Jordanian trucks is completely halted due to the deteriorating security conditions in Iraq, according to Mohammad Dawood, president of the Jordan Truck Owners Association.
"We informed truck drivers about the dangerous conditions on the roads in Iraq and warned them against going to Iraq in light of the worsening security conditions in the neighbouring country," Dawood told The Jordan Times on Tuesday.
The trucking sector lost about JD10 million over the past 30 days as the work of trucks on the Iraq route is completely on hold, he said, adding that 2,000 of the 17,000 trucks in Jordan operate the route.
"The Iraqi market is a major and very strategic market for Jordan."
Exports to Iraq rose by 18 per cent during the first quarter of 2014 to JD224 million compared to JD190 million during the same period of 2013, according to the Department of Statistics.
Over the past three years, the trucking sector lost about JD200 million due to the violence and deteriorating security conditions in Iraq and Syria, according to Dawood.
"We issued a statement warning truck drivers against driving to Iraq as they can be subject to robbery, kidnapping or murder," he noted.
"Truck drivers themselves are reluctant to transport goods to the Iraqi market due to the deteriorating security conditions."
Truck drivers are currently focusing on the Arab Gulf market and working locally.
The Islamic State militant group, an offshoot of Al Qaeda formerly known as the Islamic State in Iraq and the Levant, is spearheading a patchwork of insurgents who hold territory grabbed in a blitzkrieg across the north and west of Iraq, and have threatened to move on Baghdad, according to Reuters.
Related Articles
Jan 18,2016
MAFRAQ — Ending the conflict in Syria is the solution needed to end the refugee crisis, historically the largest the international community
Jun 14,2016
BEIJING — Countries in Southeast Asia have "serious concerns" over recent events in the disputed South China Sea, an unusually strongly word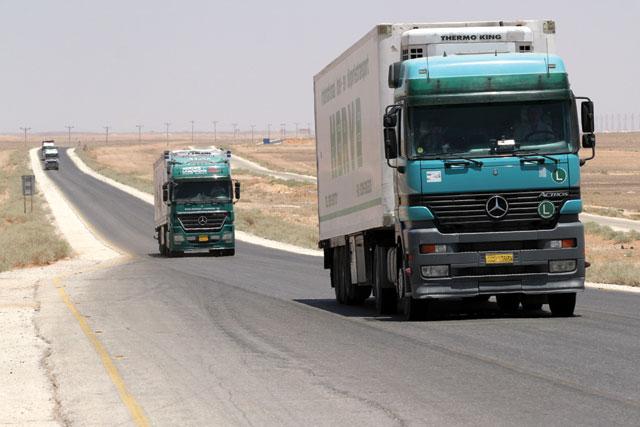 Feb 12,2015
Jordanian truck drivers have quit the "lawless" route inside Iraq as it is controlled not only by the so-called Islamic State (IS) militants but also by other sectarian militias, president of the Jordan Truck Owners Association, Mohammad Dawood, said Thursday.
Newsletter
Get top stories and blog posts emailed to you each day.