You are here
Truck owners protest Saudi visa fee hike
Transport minister to study protesters' demands, contact Saudi gov't
By Sawsan Tabazah - Oct 04,2016 - Last updated at Oct 04,2016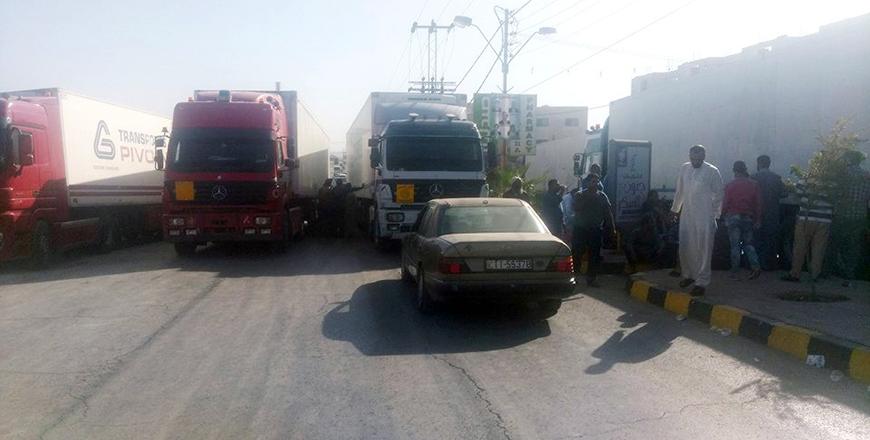 Truck drivers stage a sit-in in the northern city of Ramtha, 90km north of Amman, on Tuesday to protest rising costs (Photo courtesy of Mouafaq Fadel)
AMMAN — Truck owners protested on Tuesday in Amman and Ramtha after Saudi Arabia raised visa fees from JD135 to JD630, the Jordan Truck Owners Association (JTOA) said.
The Saudi government issued the decision to raise the visa fees on Saturday and implemented the new charges on Tuesday, JTOA President Mohammad Kheir Al Dawoud told The Jordan Times.
"The fees increased by five times from JD135 to JD630," Dawoud said.
In Amman, Transport Minister Hussein Al Souob met with truck owners who were protesting outside his ministry.
He promised to study their requests and to contact the Saudi government on their behalf, the ministry's spokesperson, Ali Odaibat, told The Jordan Times.
A deal between the ministry and its Saudi counterpart includes an agreement that no additional fees will be imposed, Odaibat added. Around 200 people were protesting in front of the ministry, the JTOA president said.
Meanwhile, some 200 truck owners, who own around 1,000 trucks between them, closed the entrance to Ramtha, 90km north of Amman, from the early hours of Tuesday morning, calling on the government to contact Saudi authorities to cancel the fee hike, according to Dawoud.
"Some 5,000 of [Jordan's] 18,000 trucks are in Ramtha," Dawoud said, noting that the protest at the northern border city could continue until a solution is reached.
The sector has lost around JD600 million over the last five years because of the political crises in neighbouring countries, he noted.
"We have lost seven main markets including Syria, Iraq, Yemen, Libya, Lebanon, Eastern Europe and Turkey," he said.
Around 4,500 trucks were working on the Iraqi and Syrian lines, Dawoud added, noting that the countries had been Jordan's traditional markets.
"We used to transport cement and winter fruit and vegetables to Syria and various Jordanian products to Libya," he said.
Many truck owners are selling their trucks to cope with financial problems caused by the losses in the sector, the JTOA president said.
Related Articles
Jul 11,2016
AMMAN — Truck drivers in Ramtha who transport goods to Saudi Arabia on Monday called on the Saudi embassy to speed up visa processing.Gather
Jan 02,2018
AMMAN — Drivers of container trucks at the Aqaba port have been on strike for the past two days protesting against "high operational costs"
Oct 30,2016
AMMAN — Owners of buses and Hajj and umra companies appealed on Sunday to His Majesty King Abdullah to take action regarding Saudi Arabia's
Newsletter
Get top stories and blog posts emailed to you each day.