You are here
Two Demoqrati winners poised to implement their pioneering ideas
By Mohammad Ghazal - Feb 07,2014 - Last updated at Feb 07,2014
AMMAN — Keen to put her computer training skills to good use, Iqbal Dmour started working at the Qatraneh Knowledge Station five years ago.
Now she plans to teach parents in the Southern Badia how to use Facebook and create e-mail accounts to bridge the growing gap between them and their computer-literate children.
"At the knowledge station, we charge nominal fees for computer courses, so people prefer to register their children," Dmour said, noting that difficult economic conditions facing families in the area deprived parents of the opportunity to enrol in computer training courses, which left them unaware of technological advancements.
"I was hoping to get some kind of support that will help me achieve my goal," she told The Jordan Times in a recent interview.
The computer trainer said her hopes were realised when she applied for the Youth Empowerment Windows Initiative, which is part of the Democratic Empowerment Programme "Demoqrati" launched by His Majesty
King Abdullah last year.
"I submitted a proposal for a scheme to train 400 parents from the Southern Badia on computer and Internet skills and was accepted," she said.
Dmour was one of 97 young Jordanians from across the country who were recently announced as winners of the first round of the initiative, implemented by the King Abdullah II Fund for Development (KAFD).
"I am so happy that the fund accepted my idea and adopted it. They pledged to provide financial support that will cover the cost of the training courses at the Knowledge Station and transportation for the parents," Dmour said.
"It is important to teach parents how to use the Internet and understand what it is all about because sometimes they clash with their children for surfing the web excessively. They also need to be trained on how to monitor their children's online activity and how to protect them," Dmour said.
"When parents know how to use the Internet, they will also be able to fill their time and learn," she noted.
Farah Freihat was also among the first round of winners.
"I use the Internet a lot throughout the day and I noticed that young people and friends on my social networking sites discuss a lot of issues and problems they face in society, at school and in our city in general," the Jerash resident told The Jordan Times over the phone.
"When I learnt about the initiative, I submitted an idea for creating a website where young people in Jerash can publish articles, discuss issues they face and interact with each other. My project seeks to create a platform for an exchange of ideas," noted Freihat, who received a JD500 grant to implement her scheme.
The 11th grader has already started working with a designer to develop the website, which will be launched in March as www.sharek.jo.
"Young people in Jerash and elsewhere use the Internet a lot. I hope that my website will be a platform for positive dialogue."
"I also hope the initiative will support more ideas in the future as many of my friends started thinking about ways they can serve their communities and enhance services in their neighbourhoods," Freihat added.
According to KAFD, another round will be held in April under which young Jordanians can submit their ideas.
The programme's four youth empowerment "windows of opportunity" seek to encourage young people to join voluntary initiatives, institutionalise existing youth initiatives, support local community organisations to expand the outreach of their projects, and provide financial and technical support to larger projects to turn them into nationwide initiatives that reach the Kingdom's governorates.
Seeking to enhance the values of democracy, enroot democratic practices in society and push the development process forward, Demoqrati is founded on development-boosting values such as the rule of the law, rejection of violence, acceptance of others, dialogue and accountability.
It seeks to engage all segments of society, especially young people, in building a conscious democratic culture and facilitate it through democratic institutions and supportive civil society organisations, based on confidence in the country's ability to make change and progress in its development process.
Related Articles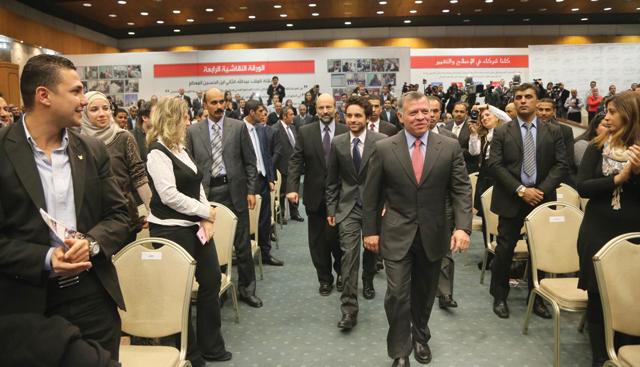 Jan 05,2014
His Majesty King Abdullah on Sunday attended a ceremony to honour the first round of winners of an initiative that seeks to support creative individuals involved in community service.
Feb 17,2014
Abdul Rahman Zghoul, a schoolteacher, is aware that giving bread to the needy has a deeper meaning in a community where bread is the staple food and a symbol of sufficiency, when available.
Feb 19,2014
Frustrated with behaviours of some pedestrians and motorists alike, Subhi Mohammad Subhi, a university student majoring in aviation engineering, will soon start a campaign to encourage them to better respect traffic laws.