You are here
UK student volunteers seek positive change in Western and Arab societies
By Laila Azzeh - Apr 27,2017 - Last updated at Apr 27,2017
A volunteer of the Changing Lives programme is seen with children with disabilities at the Badwa Centre in Amman (Photo courtesy of Changing Lives)
AMMAN – A group of 16 volunteers from the UK is carrying out activities with several local organisations in a bid to influence societal change and gain a better understanding of Arab culture.
Under the Amman-based Changing Lives (CL) programme, the volunteers are holding activities in refugee camps, orphanages, public schools and centres for special education.
University students Marta and Margarita highlighted the importance of this trip in allowing them to see the "true face" of Jordan and its people.
"No matter how much you hear about a country and its people, you do not really know it unless you visit it," Marta told The Jordan Times on Wednesday, as she was playing with children with disabilities at the Badwa Centre in Amman.
CL Coordinator Alex Ray noted that the programme, implemented by Majdi Al Sadi Foundation, seeks to enhance interaction and cooperation between local and Western organisations and universities, to "improve perceptions of the Arab world and Islam in the West".
Launched four years ago, the CL facilitates students' participation with local institutions to improve the lives of all participants and bring about positive change in both Western and Arab societies.
Also under the programme, Jordanian students receive teaching and mentoring, while accessing opportunities to visit Western universities, according to Ray, who noted that the CL is supported by "organisations overseen by the Royal Court and the British embassy in Amman".
The non-profit organisation's local partners include the Princess Taghrid Institute for Development and Training, the Jordan Media Institute, the Madrasati initiative, Al Aman Fund for the Future of Orphans and the Jordan River Foundation.
Related Articles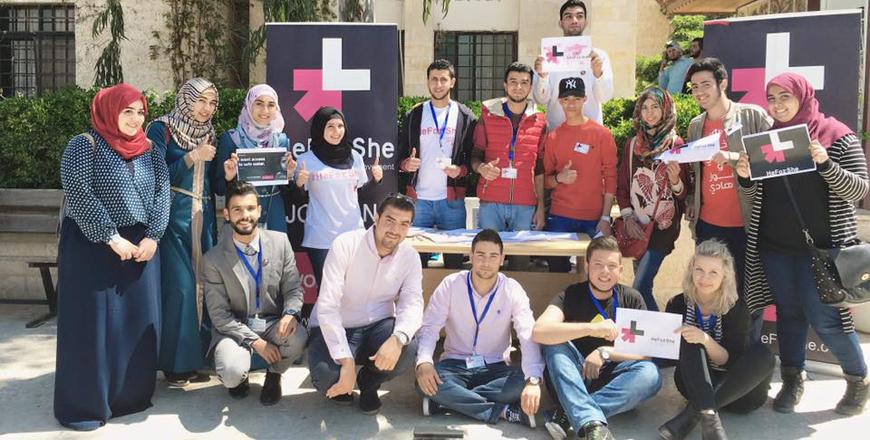 Sep 14,2017
AMMAN — The country office of UN Women in Jordan has wrapped up the first phase of the global HeForShe campaign for the promotion of gender
Dec 06,2017
AMMAN — "You are the Ministry of Volunteerism of Jordan.
Apr 19,2020
AMMAN — Foreign Minister Ayman Safadi on Sunday telephoned a number of Arab counterparts over means to enhance cooperation in facing the COV