You are here
UN Jordan releases 'Healthy Diet for All in Jordan' policy brief in conjunction with Global Food Summit
By JT - Sep 23,2021 - Last updated at Sep 23,2021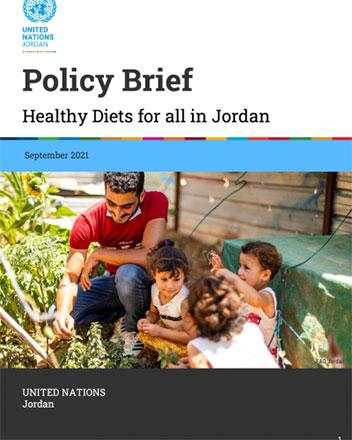 AMMAN — The United Nations on Thursday released a policy brief, recommending Jordan to adopt specific key policies to ensure it is transitioning towards sustainable food systems and delivering healthy diets for all.
According to the policy brief, titled "Healthy Diet for all in Jordan", Jordan has ratified the UN Covenant on Economic, Social, and Cultural Rights, adopted a National Strategy for School Health 2018-2022 and the National Food Security Strategy 2021-2030, and will be developing a national nutrition strategy soon, said a UN statement sent to The Jordan Times.
The UN cited results from the Global Nutrition Report for the year 2020, which showed that Jordan suffers from a double burden of micronutrient deficiencies and overweight/obesity, with women presenting the worst rates in both, pointing to a serious gender gap in nutrition.
Eighty-four per cent of adult Jordanians and Syrians (18-69 years old) consume unhealthy diets (less than the WHO recommended daily intake of fruit or vegetables).
Anemia is prevalent among children and women of reproductive age at 34 per cent, and breastfeeding rates are low with 25.4 per cent of infants aged (0-5) months exclusively breastfed.
For the food systems to deliver safe, sustainable, healthy and affordable food, the UN recommends Jordan to ensure food availability, which requires that food is available from natural resources and available for sale in markets and shops.
The UN also recommends Jordan to ensure food accessibility, which requires guaranteed economic and physical access to food. Economic accessibility means that food must be affordable.
Food adequacy means that food must satisfy dietary needs, taking into account the individual's age, living conditions, health, occupation, sex, among other factors.
For Jordan to achieve food availability, accessibility and food adequacy, the UN recommended the following:
Promote the adoption of agroecological practices more vigorously;
Allocate sufficient resources to put in place comprehensive and universal social protection programmes including for women;
Adopt statutory regulation of the marketing of food products as an effective way to reduce marketing of foods high in saturated fats, trans fats, salt and sugar to children, and restrict marketing of these foods to other groups;
Scale up of food reformulation to progressively reduce salt, sugar and saturated fats in a wider range of foods;
Implement mandatory standards for food labelling e.g., ingredient listing, back-of-pack nutrient declarations and simplified front-of-pack labelling for all pre-packaged foods, as it supports creating healthier food environment;
Develop a national nutrition strategy and action plan and implement the school health strategy, the national food security strategy and its action plan;
Scale up setting standards for public procurement and provision of healthy foods in public institutions.
Provide balanced school meals and healthy options and prohibit selling processed food in schools and support implementation of the national school feeding programme;
Adopt domestic legislation and comply with the International Code of Marketing of Breast-milk Substitutes and the WHO recommendations on the marketing of formula products and foods for infants and of foods and non-alcoholic beverages to children and ensure their effective enforcement, even where local enforcement is weak or non-existent.
The launch of the policy brief coincides with the United Nations Global Food Summit that takes place on Thursday in New York.
The summit aims to maximise the co-benefits of a food systems approach across the entire 2030 Agenda and meeting the challenges of climate change. It also provides a platform for ambitious new actions, innovative solutions and plans to transform food systems and leverage these shifts to deliver progress across all of the SDGs, the statement said.
Ahead of the summit, the Ministry of Agriculture in Jordan in collaboration with the United Nations conducted national consultations with the concerned stakeholders and submitted a report on results of the consultations to the summit.
up
19 users have voted, including you.
Newsletter
Get top stories and blog posts emailed to you each day.