You are here
Unemployment dropped to 11.9% in 2014 — Katamine
By Petra - Mar 07,2015 - Last updated at Mar 07,2015
AMMAN — The unemployment rate in 2014 stood at 11.9 per cent, going down by 0.7 per cent compared with 2013, when it was 12.6 per cent, Labour Minister Nidal Katamine said Saturday.
Citing a recent report issued by the Department of Statistics (DoS), Katamine added that unemployment rates in 2014 declined despite difficult regional circumstances that affected production and growth rates, as well as efforts to attract new investments.
The DoS figures showed that unemployment was 20.7 per cent among women and 10.1 per cent among men last year, compared to 22.2 per cent among women and 10.6 per cent among men in 2013.
The same data revealed that the rate of the economically active population in 2014 stood at 36.4 per cent — 12.6 per cent among women and 59.7 per cent among men.
Direct and indirect repercussions of the Syrian refugee influx on the labour market slowed the decrease in unemployment — when taking into consideration employment policies the Labour Ministry has been applying for the past two years — as the percentage could have dropped further, a statement quoted Katamine as saying.
The minister attributed the drop in unemployment in 2014 to employment projects and inspection campaigns the ministry has been carrying out.
In this regard, he noted that the three employment campaigns and relevant initiatives the ministry launched in 2013 and are still ongoing, have resulted in securing jobs for more than 70,576 citizens in many fields.
Katamine also noted that the names and jobs of those employed through these campaigns have been entered into the electronic system for national employment, and the ministry, in cooperation with the Social Security Corporation, will soon announce the rate of those who maintained their jobs.
The minister stressed that 2015 will witness an expansion in employment programmes such as initiatives targeting productive branches, in addition to the implementation of new projects and policies aimed at alleviating poverty and unemployment.
Related Articles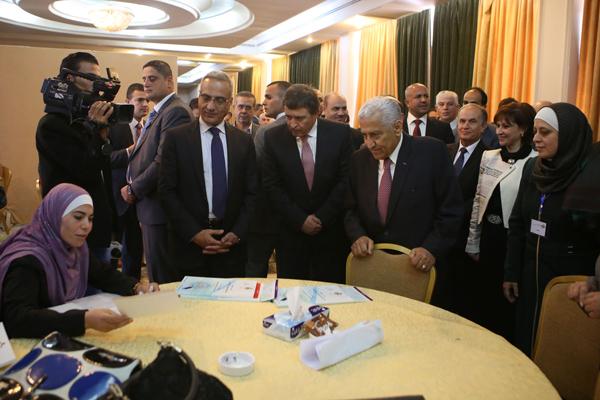 Nov 20,2015
AMMAN — Prime Minister Abdullah Ensour on Thursday visited a job fair that forms part of the fourth phase of the National Employment Campaig
Oct 18,2017
AMMAN — The unemployment rate in the second quarter of 2017 stood at 18 per cent, marking a 2.7 per cent increase when compared to the same
May 16,2015
The unemployment rate among Jordanians has increased from 14.5 per cent prior to the Syrian crisis in 2011 to 22.1 per cent at present, according to a recent report by international organisations.