You are here
UNESCO scholarship offers young Syrian hopes for future
Oct 05,2017 - Last updated at Oct 05,2017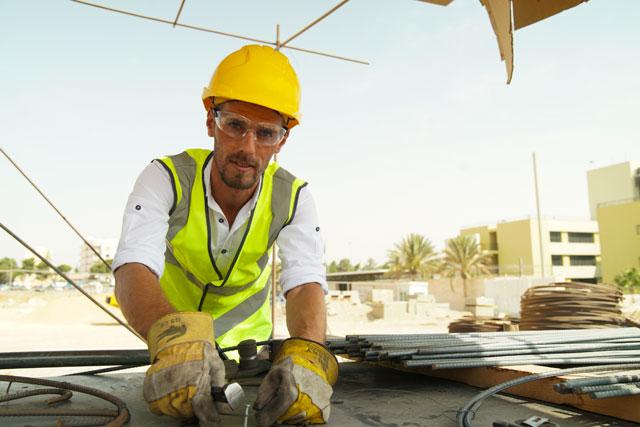 Mustafa Barghouthi at a construction site (Photo courtesy of UNESCO)
AMMAN (UNESCO) — Mustafa Barghouthi, a Syrian student who arrived in Jordan in 2012, first learned of the UNESCO scholarship programme funded by the Government of the Republic of Korea and implemented by Al Quds College, from his friend.
Mustafa had not succeeded at Tawjihi and had begun working doing renovations and construction work to earn a living.
When he heard about the scholarship, he decided that the opportunity was a chance to achieve his dreams and he applied to study civil engineering.
"I saw this programme as a great opportunity as I will be able to increase my income after achieving the BTEC-L3 Civil Engineering diploma, in addition to getting more practical experience," Mustafa said.
The Pearson accredited BTEC-level3 programmes offered by the Korean-funded scholarship are helping young Syrians and Jordanians to pursue learning by providing opportunities for educational development.
The programmes serve to enhance graduates' competitiveness in the employment market and support their trajectory towards a brighter future. This year, UNESCO has offered 250 scholarships under this project, supporting access to meaningful accredited post-basic education for 75 Jordanian and 175 Syrian refugee youth.
So far, Mustafa said he has enjoyed the BETC-level 3 Civil Engineering programme as it has had a meaningful impact at his current job and in his personal life. He has made many new connections and feels his self-confidence has also developed.
"I have learned a lot about construction techniques which helps me in my current workplace," Mustafa explained.
Engineer Rabiha Najajrah, Mustafa's teacher at Al Quds College said: "Mustafa was a distinguished student in this programme. Many of his peers consulted him on issues and problems of operations, and he was kind enough to help them. He struck me as a go-getter, and a persistent student who valued knowledge and progress above all else."
Rabiha continued: "Mustafa's competence in effectively communicating with everyone is a credit to himself and his country. I am convinced that he would perform well in studies at the advanced graduate level. I would strongly recommend him for a Bachelor of Science program in the field of Civil Engineering."
The UNESCO Amman office has been taking a leadership role in ensuring the implementation of the 2030 Agenda for Sustainable Development. Sustainable Development Goal 4 focuses on ensuring inclusive and quality education for all and promoting lifelong learning.
Related Articles
May 14,2018
AMMAN — The UNESCO Amman office and the Republic of Korea on Monday launched a new project, aimed at providing technical and vocational educ
Nov 30,2016
AMMAN — UNESCO, under the patronage of the Ministry of Education, is partnering with Al Quds College in launching an educational project spe

Nov 20,2017
AMMAN — "The future belongs to the educated, to the dreamers, and to the curious young people," said UNESCO representative to Jordan Constan
Newsletter
Get top stories and blog posts emailed to you each day.