You are here
UNESCO-TVET scholarship helps open doors for young Syrian man
By UNESCO - May 20,2021 - Last updated at May 20,2021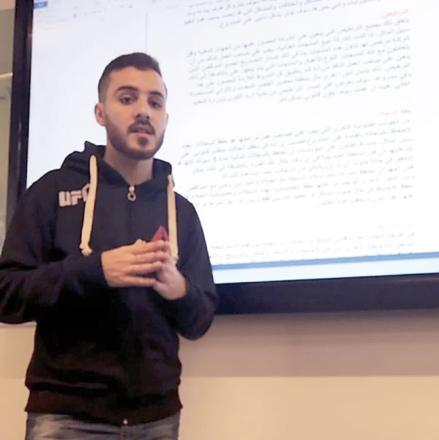 Mohammad Shehadat presenting his graduation project (Photo courtesy of UNESCO)
AMMAN — Mohammad Shehadat, a 25-year-old Syrian man living in Jordan, paved his way to success with the support of a UNESCO project funded by the government of South Korea.
Shehadat moved from Syria to Jordan with his family in 2013. At that time, he was feeling hopeless. After living in uncertainty for three years in Jordan, Shehadat was motivated to turn his life around. He realised that his future depends on him pursuing education and improving his skills such that he could find a stable job.
"One must never let challenges stop them from achieving greatness", said Shehadat.
Mohammad's hunger for knowledge and success only grew stronger with time. In December 2018, he came across an advertisement from Luminus Technical University College (LTUC) promoting a diploma scholarship as part of the UNESCO's project "Provision of TVET, On-The-Job-Training and Entrepreneurship Education to Youth affected by the Syria Crisis in Jordan" funded by the Government of the Republic of Korea.
Without hesitation, Shehadat applied for the scholarship to study business. He started his training in May 2019 and graduated in July 2020.
Upon graduation, Shehadat has become better able to understand the demands of today's labour market and utilise his skills in pursuit of his career.
Shehadat shared his first experience at the LTUC: "On my first day, facilitators were friendly and supportive, they welcomed us with a detailed orientation on how to settle on campus and adapt to the educational environment."
Shehadat wanted to pay back to the community, more so amid the COVID pandemic. As a result, he eventually launched "Expatriate Student Affairs", an e-learning platform for youth living in refugee camps in Jordan, providing them with skills in business, marketing, self-development and Arabic language.
During the course, Shehadat was chosen by Digital Opportunity Trust (DOT) Youth Corporation, in addition to five others, as the most influential individuals who support education for the vulnerable youth in camps.
Moreover, Shehadat was selected as the spokesperson for the Syrian youth in Jordan during the Global Coalition to Protect Education from Attack (GCPEA) event in September 2020.
"It was an honour to be selected by UNESCO as the spokesperson for the Syrian youth in Jordan for this event", said Shehadat. This high-level event was celebrated virtually to commemorate and promote the UN International Day that calls for the end of attacks on education.
"I was able to express our struggles and challenges as refugees, and I hope things will turn around one day", said Shehadat.
He has become a confident and competent volunteer in the research field with different humanitarian organisations. He previously worked as a freelance researcher with World Vision International. Shehadat is also working as a volunteer with Paper Airplanes, a non-profit organisation aiming to match conflict-affected individuals with personal tutors. Through this initiative, Mohammad supports students in their education and professional development.
Shehadat is grateful for the doors that the UNESCO-TVET scholarship funded by the Government of the Republic of Korea opened for him.
UNESCO, in line with the UN Sustainable Development Goal 4 on ensuring quality education, is supporting the Government of Jordan in ensuring equitable continuity of education. The project is fully aligned with different national policies and strategies such as the National Strategy for Human Resource Development 2016-2025 and the Jordan Response Plan for the Syria Crisis (JRP) 2020-2022.
(UNESCO contributed this article to The Jordan Times)
Newsletter
Get top stories and blog posts emailed to you each day.