You are here
UNRWA appeals for $1.6 billion for health, education and other basic services
By JT - Jan 24,2023 - Last updated at Jan 24,2023
Palestinians carry bags of flour received as aid to poor families at the United Nations Relief and Works Agency for Palestine Refugees distribution centre in the Rafah refugee camp in the southern Gaza Strip on January 22, 2023 (AFP photo) 
AMMAN — The United Nations Relief and Works Agency for Palestine Refugees in the Near East (UNRWA) appealed today for $1.6 billion for programmes and operations in 2023.   
"Across all the area of operations, UNRWA continues to play an indispensable role in the lives of millions of Palestine refugees. We work to maintain the delivery of basic services in an incredibly difficult financial and political context," said UNRWA Commissioner-General Phillippe Lazzarini in a statement.
"Palestine refugees — one of the most underprivileged communities in the region — face unprecedented challenges and increasingly rely on UNRWA for basic services and in some cases the sheer survival."
Compounding challenges over the last year including underfunding, competing global crises, inflation, disruption in the supply chain, geopolitical dynamics and skyrocketing levels of poverty and unemployment among Palestine refugees have put immense strain on UNRWA.
Most Palestine refugees now live below the poverty line, many depend on humanitarian assistance, including cash and food, from UNRWA.
"I have just come back from Syria where I witnessed firsthand indescribable suffering and despair. The situation of Palestine refugees there is sadly mirrored in other places like Lebanon and Gaza where Palestine refugees are hitting rock bottom. Many told me that all they asked for was a life of dignity, that's not much to ask for," continued the commissioner-general.
As the only UN agency that provides public-sector-like services directly, UNRWA is globally recognised for cost-effectiveness, efficiency, and quality. UNRWA runs a full-fledged education system with over 700 schools providing education to more than half a million children in the region. Its workforce of nearly 30,000 — mostly Palestine refugees — provides health, sanitation, education and social services including food and cash assistance.
"For more than 70 years, UNRWA has been delivering and responding to the needs of Palestine refugees against all odds, shouldering a huge responsibility until a just and lasting political solution is found. We cannot and should not be always scrambling to bring in funds to cover our contribution to human rights and stability. I call for a more sustainable model of funding to this critical agency under which UNRWA has a predictable, long term and regular source of funding. Without it, we will simply not be able to deliver and with that the lives of Palestine Refugees will hang by a thread and millions of people in the region and beyond will be impacted," said Commissioner-General Lazzarini.
Related Articles
Apr 26,2023
AMMAN — Deputy Prime Minister and Foreign Affairs Minister Ayman Safadi and UNRWA Commissioner-General Philippe Lazzarini on Tuesday discuss
Nov 14,2022
AMMAN — UNRWA Commissioner General Philippe Lazzarini on Monday warned that the UN agency has entered a "dangerous zone", and needs be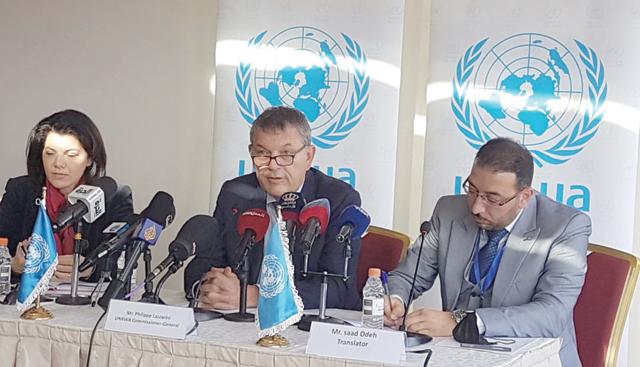 Dec 01,2021
AMMAN — UNRWA Commissioner General Philippe Lazzarini on Tuesday warned that the UN agency's funds are shrinking and that the agency is at a