You are here
UNRWA launches $800m emergency appeal as it faces 'toughest crisis'
Agency urges Arab states to up their contributions
By Hana Namrouqa - Jan 31,2018 - Last updated at Jan 31,2018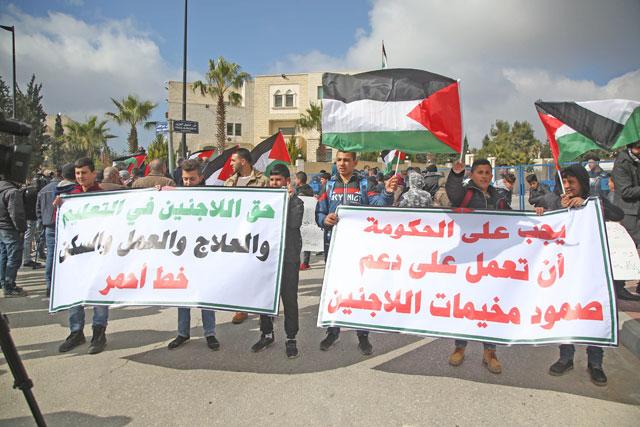 Palestinian refugees protest against US move to cut funding for the Palestinian Authority and UN refugee agency UNRWA in front of the Cabinet building in Ramallah, West Bank, on Tuesday (Anadolu Agency photo)
AMMAN — The United Nations Relief and Works Agency (UNRWA) launched on Tuesday an $800 million emergency appeal for Syria and the occupied Palestinian territory.
The agency made the emergency appeal as it faces a projected deficit of $200 million in its emergency budget for this year brought on by a cut in half of US aid to an organisation that serves 5.2 million Palestinian refugees, UNRWA Spokesperson Sami Mshasha said.
If the funds are secured, UNRWA will allocate approximately $400 million each for Syria and the occupied Palestinian territory, which consists of Gaza and the West Bank, according to the relief agency, which indicated that the appeal also covers some 50,000 Palestinian refugees from Syria that have fled the war to Lebanon and Jordan.
"We are sending a message that the agency is here to stay, that it is not for sale and that it will remain operational until a just and lasting solution to the plight of the Palestinian refugees is achieved," Mshasha told media representatives during a press briefing coinciding with UNRWA's official appeal launch from Geneva on Tuesday.
Inside Syria, UNRWA is reaching over 400,000 Palestine refugees with cash assistance, one of the largest such programmes in an active conflict setting anywhere in the world, according to the UN agency.
In Gaza, almost 1 million Palestine refugees are dependent on UNRWA for emergency food assistance, which is a ten fold increase on the 100,000 Palestinian refugees who required such support in 2000, according to an UNRWA statement.
"The 800-million-dollar emergency appeal is the minimum requirement for upholding and sustaining our services to the Palestinian refugees, who are completely dependent on the agency's aid and services of food, water, shelter and medical assistance," Mshasha said.
Mshasha underlined that the deficit in the emergency programmes' budget this year is linked to US cuts on funding to the agency, which received $350 million in US aid last year.
UNRWA is funded mainly by voluntary contributions from UN member states, with the US being its largest donor. Washington said on January 16 that it will hold back $65 million of a $125 million aid instalment to the agency.
Although not officially declared by the US administration, the cuts come after the Palestinian leadership refused to meet US Vice President Mike Pence during his visit to the region and rejected any future role for the US in the peace process following US President Donald Trump's decision in December last year to recognise Jerusalem as the capital of Israel.
Speaking at the World Economic Forum in Davos last week, Trump said: "When they disrespected us a week ago by not allowing our great vice president to see them, and we give them hundreds of millions of dollars in aid and support, tremendous numbers, numbers that nobody understands — that money is on the table and that money is not going to them unless they sit down and negotiate peace."
Mshasha said that while the agency will continue negotiating with the US on the fund cuts, he noted that "there are indications that the US will not donate this amount of money again if the agency doesn't respond to its demands".
Such demands entail a review in mechanisms of money disbursement, employment and content of extra-curricular courses taught at the agency's schools.
"This is not the first financial crisis that UNRWA suffers, but it is certainly the toughest," Mshasha pointed out.
Under its global fund raising campaign, UNRWA will target countries which did not contribute to its emergency budget before, he said, noting that the agency also targets international funds, the World Bank and the private sector.
"We also urge the Arab countries to up their contributions," Mshasha said.
At the emergency appeal's launch event in Geneva, UNRWA Commissioner-General, Pierre Krähenbühl, said that the appeal "enables UNRWA to continue delivering desperately needed relief to those affected by deepening emergency situations. However, the agency's critical financial crisis following the reduction in US funds threatens our ability to deliver these vital services".
Krähenbühl stressed that "supporting UNRWA emergency appeals is not a substitute for an urgently needed political solution to the underlying conflict. It is, however, fundamental to sustaining the dignity and strength inherent in the Palestine refugee community", Agence France Presse reported.
UNRWA said that it expects facing "a tough situation during the next few months".
"We are studying our options…, the basic point is that we don't want our clinics, schools and food distribution centres to be shut down," Mshasha told The Jordan Times.
In response to the unprecedented financial crisis, UNRWA launched last week the global fund raising campaign #DignityIsPriceless.
UNRWA was established by United Nations General Assembly Resolution 302 (IV) of December 8, 1949, to carry out direct relief and works programmes for Palestine refugees. The agency began operations on May 1, 1950, according to the agency's website.
Related Articles
Jul 12,2018
GAZA CITY, Palestinian Territories — Dozens of Palestinians and employees of the UN Relief and Works Agency for Palestine Refugees (UNRWA) d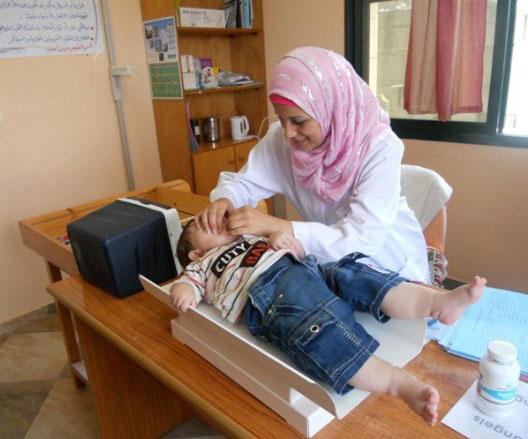 Jul 22,2015
AMMAN – Jordan on Wednesday said it totally rejects any "shirking" of responsibilities towards UNRWA, the only UN agency that is dedicated t
Jul 14,2015
AMMAN — Deemed as the only UN agency that is dedicated to serve a specific national community, UNRWA is now facing a chronic financial crisi
Newsletter
Get top stories and blog posts emailed to you each day.