You are here
Upon return, King checks on scorched landmark mosque
His Majesty directs restoring historic Al Husseini Mosque after fire
By JT - Jul 23,2019 - Last updated at Jul 23,2019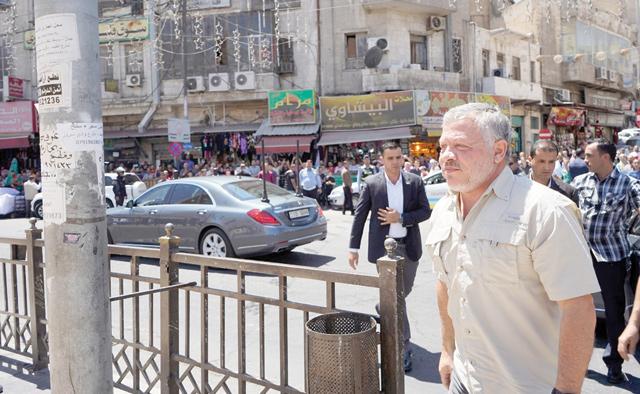 His Majesty King Abdullah makes his way to the historic Al Husseini Mosque in downtown Amman, on Monday, to check on the aftermath of a recent fire that broke out in parts of the mosque (Photo courtesy of Royal Court)
AMMAN — His Majesty King Abdullah, upon returning home on Monday, visited Al Husseini Mosque in downtown Amman to check the aftermath of the recent fire that broke out in parts of the mosque, one of the oldest in the Kingdom, according to a Royal Court statement.
King Abdullah, accompanied by HRH Prince Feisal, stressed the need to restore Al Husseini Mosque to preserve its Islamic and historical stature and its architectural style, underscoring the significance of the mosque as a cultural landmark in the capital.
His Majesty, on a tour of the site of the fire on the second floor, was briefed by Awqaf Minister Abdul Nasser Abul Basal on the damage caused by the blaze, which extended over an area of 50 sq.m. and caused the loss of a collection of books from the mosque's library.
Moreover, the King reviewed plans by the Royal Engineering Directorate at the Royal Court for the rehabilitation of the mosque, which was rebuilt during the reign of King Abdullah I in 1921 (1341 Hijri) and was named after the leader of the Great Arab Revolt, Sharif Hussein Bin Ali.
The mosque's actual building dates back to the reign of Islamic Caliph Omar Ibn Al Khattab.
Last week, His Majesty ordered the provision of the necessary furniture, equipment and carpets for the mosque's refurbishment, issuing directives to develop a public safety and rehabilitation plan for major mosques around the Kingdom that would include equipping them with fire alarms.
Royal Hashemite Court Chief Yousef Issawi, Adviser to His Majesty for Communication and Coordination Bisher Al Khasawneh and Adviser to His Majesty for Policies and Media Kamal Al Nasser accompanied His Majesty on the visit.
Newsletter
Get top stories and blog posts emailed to you each day.