You are here
US aims to expand commercial ties with Jordan — ambassador
By JT - Aug 22,2016 - Last updated at Aug 22,2016
US Ambassador Alice G. Wells tours a garment factory at Duleil Industrial Park, on Monday (Photo courtesy of US embassy)
AMMAN — US Ambassador Alice G. Wells on Monday visited Duleil Industrial Park, which produces garments for export under Jordan's free trade agreement (FTA) with the US.
"We are proud of the over 800 per cent growth in bilateral trade since the US-Jordan FTA was signed," Wells said after a meeting with exporters, according to a US embassy statement.
Wells discussed opportunities for firms in the park to continue expanding their exports, both under the FTA and the recent deal signed between Jordan and the EU granting the Kingdom preferential access to European markets.
"We discussed the exporters' strong relationships with a number of high-end US firms. We also aim to expand commercial ties and seize new market opportunities, like those offered by the Jordan Compact, to create jobs for Jordanians and the refugees Jordan hosts," the ambassador said.
Textile factories at the industrial park employ over 3,500 Jordanians, among the 50,000 jobs created by the FTA, the embassy said.
Under a 2015 memorandum of understanding, USAID's Workforce Development Programme is working with companies to train over 500 Jordanians to be employed in the park, as well as supporting Syrian refugee participation in the programme.
Duleil Industrial Park exports 35 per cent of Jordanian garment products to the US. Its exports reached $465 million in 2015 and $234 million in the first half of 2016, the embassy said.
Factories at the park produce garments for a number of brands including Under Armour, Burberry, Talbots and Banana Republic, according to the embassy.
Related Articles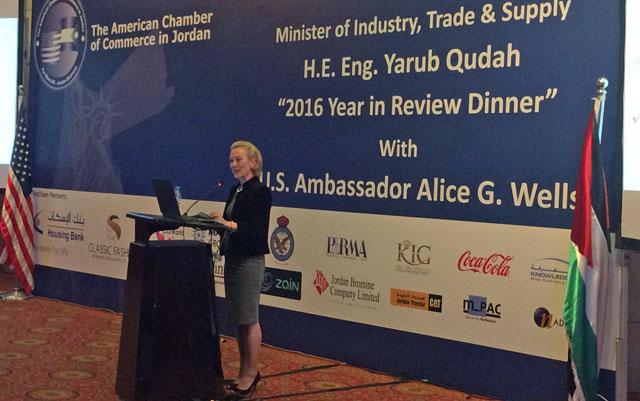 Dec 08,2016
AMMAN — US Ambassador to Jordan Alice G.
Jul 06,2017
AMMAN — Better Work Jordan (BWJ) held its ninth buyer and stakeholder forum in Amman on Thursday, exploring ways to address compliance with
Mar 26,2018
AMMAN — All the free trade agreements (FTA) Jordan has entered with other countries will be subject to reconsideration, Minister of Industry
Newsletter
Get top stories and blog posts emailed to you each day.