You are here
US to fund 5-year, $140m plan to support basic education
By JT - Sep 16,2014 - Last updated at Sep 16,2014
AMMAN – The US will provide financial support to Jordan's education sector worth $140 million over the next five years, the US embassy in Amman announced Tuesday.
The embassy said in a statement e-mailed to The Jordan Times that Ambassador Alice Wells, Minister of Education Mohammad Thneibat, Minister of Public Works and Housing Sami Halaseh and USAID/Jordan Mission Director Beth Paige signed a certificate acknowledging that USAID will support Jordan's education development over the next five years for up to $140 million.
The project will expand 120 schools, renovate another 150 schools, and build 300 kindergartens and 50 sports fields and facilities across the Kingdom, said the embassy, indicating that the signing ceremony took place at Hettien Mixed Basic School in Ajloun, which was built with US government funds.
"We are proud to be working hand-in-hand with our partners to improve the future for Jordan's youth," Wells said, referring to the cooperation between USAID and the ministries of education and public works.
Wells also donated 200 children's reading books to the school to develop reading in the early grades, said the embassy.
Thneibat expressed appreciation of the US support to the education sector in the Kingdom through several projects.
In his speech, made available to The Jordan Times, Halaseh said that throughout the past six years, the Ministry of Public Works and Housing has worked with USAID and several consultants to implement a new design for schools to achieve the objectives of the Education Reform for the Knowledge Economy Programme, particularly early childhood education.
"The new school design models consist of classrooms, first aid/child care, knowledge centre, administration offices, labs and Kindergartens and also other community-related activities such as multipurpose rooms utilised for the different school events," Halaseh said.
The new school models are devised in a way not only to provide students with a better education quality, but also to strengthen their social and interaction skills amongst each other and with their communities, he added.
Halaseh said all construction work will be carried out by Jordanian contractors.
This contract includes a fast-track phase that includes the expansion of 20 schools in communities affected by the increased number of Syrian refugees, he added.
The embassy said that Hettien Mixed Basic School's design and construction was funded by the American people through USAID's Jordan School Construction and Rehabilitation Programme (JSP).
JSP has benefited more than 100,000 students, educators and staff since its inception in 2006. To date, the US government has funded the construction of 27 new and the expansion of 82 existing schools in Jordan.
USAID's education programme also supports the Ministry of Education's efforts to improve early grade reading and math, teacher training and youth development.
Related Articles
Nov 05,2014
Minister of Public Works and Housing Sami Halaseh on Wednesday met with US Ambassador to Jordan Alice G. Wells and discussed cooperation in the construction sector.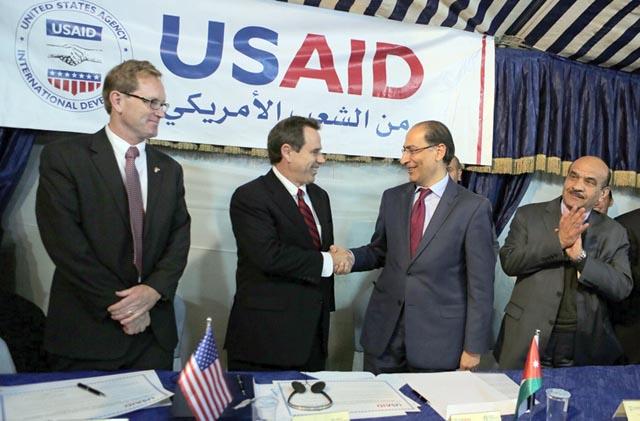 Jan 09,2014
Jordan and the US on Thursday signed a five-year aid agreement worth $140 million that seeks to boost economic and political development across the Kingdom.
Mar 09,2017
AMMAN — The Ministry of Education has completed a four-day training for principals of public schools with kindergarten 2 to grade 3 classes
Newsletter
Get top stories and blog posts emailed to you each day.