You are here
Volunteers clean up protest venues, distribute water 'for sake of Jordan'
By Muath Freij - Jun 07,2018 - Last updated at Jun 07,2018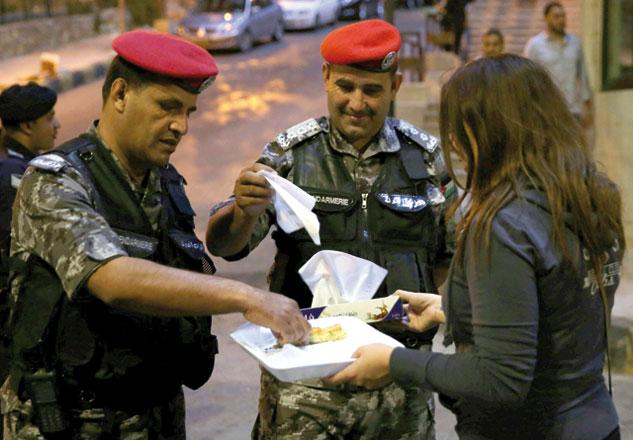 Protesters offer water and dates to policemen standing guard during a protest in Amman on Monday (AFP photo)
AMMAN — As the sounds of protestors were echoing an area near the Prime Ministry, Mohammad Shaweesh bent down to collect garbage from the street.
Shaweesh described his manner as "just as important" as the cause that united all people to take the streets of the capital.
"I distributed water to Gendarmerie forces and collected the garbage because we are going for the sake of the country in a peaceful manner so this is why we do that," he told The Jordan Times as he was collecting garbage.
Shaweesh is among five young volunteers who rushed to collect garbage and distribute water for protestors as soon as the protests flared in Amman.
Since last Wednesday, Jordanians have been protesting against the new income tax draft law, demanding the withdrawal of the law and a change in the government's economic approach.
"This is the least I can do for the sake of Jordan and its people to move garbage and boxes. I came to support my country so why should I destroy it? By collecting garbage we help our country," Shaweesh said with pride.
Abdullah Al Jaya, 19, said they noticed that people feel very thirsty so they decided to bring boxes of water cups to distribute them for participants and security forces.
"Our voluntary work is as important as the demands of the protesters, so, at the same time, we have to collect the cups of water we brought to them. We came to protest not to destroy or make things dirty," he added.
Jaya said social media helped promote their demands and such manners to show that Jordanians are part of a civilised nation.
Ihab Bassam, another volunteer, said everyone here is rushing to do positive initiatives for the sake of Jordan.
"We even saw children give us a hand. This will inspire the new generation to keep doing positive steps in the future," he added.
Related Articles
Apr 13,2016
AMMAN — The Criminal Investigation Department's Anti-Human Trafficking Unit on Wednesday concluded its investigation into the case of
Apr 11,2016
AMMAN — Royal Jordanian (RJ) said on Monday it has suspended its regular route between Amman and Ukraine's capital, Kiev, effective of March
Dec 07,2016
MEUREUDU, Indonesia — Rescuers scrabbled through the rubble of shattered homes, shops and mosques in search of survivors on Wednesday after
Newsletter
Get top stories and blog posts emailed to you each day.