You are here
Water Ministry invites proposals for consulting services on Red-Dead project
By Hana Namrouqa - Jul 15,2015 - Last updated at Jul 15,2015
AMMAN — The Ministry of Water and Irrigation has invited proposals for providing technical, legal, financial and transactional consulting services for the tendering of the first phase of the Red Sea-Dead Sea Water Conveyance Project (Red-Dead).
"Under the request for proposal, the ministry seeks to prepare the technical and engineering conditions for floating the tender for the implementation of the Red Sea-Dead Sea project's first phase," the ministry's spokesperson, Omar Salameh, told The Jordan Times on Wednesday.
The project's first phase tender will be floated before the end of the year, Salameh said.
The ministry announced the request for proposals on its website on Tuesday, he noted.
The request for proposal documents will be available on the website of the Jordan Valley Authority as of Thursday, while eligible bidders are urged to submit applications on September 1.
In its request for proposals, the ministry said the project's main components are a seawater intake structure, an intake pump station, a seawater pipeline, a desalination plant with a capacity of 65-85 million cubic metres (mcm) per year, a desalination brine conveyance pipeline, two lifting pump stations, hydropower plants and discharge facilities at the Dead Sea.
Jordan signed a memorandum of understanding with Israel and Palestine in December 2013 to implement the first phase of the Red-Dead project. Under the memo, Palestine will receive 30mcm of freshwater to cover its water deficit, while Israel will buy its share of 50mcm of desalinated water from the project at cost value and sell Jordan the same amount of water in the northern part of the Jordan Valley at a cost of JD0.27 per cubic metre.
In February this year, Jordan and Israel signed an agreement on the implementation of the project's first phase.
The agreement drew up the guidelines for the main components of the scheme, including method and timeline, and also identified the mechanism to follow up on the project's implementation and its social and environmental impacts, according to the ministry.
Under the first phase, a total of 300mcm of water will be pumped each year. In its following phases, the Red-Dead project entails transferring up to 2 billion cubic metres of seawater from the Red Sea to the Dead Sea annually, according to the ministry.
A total of 85-100mcm of water will be desalinated annually, while the seawater will be pumped out from an intake located in the north of the Gulf of Aqaba. In addition, a conveyor will be extended to transfer desalinated water as well as a pipeline to dump the brine into the Dead Sea to stop its constant decline, estimated at one metre every year.
The Kingdom will receive an additional 50mcm of water from the Lake Tiberias Reservoir annually to be added to Jordan's share from the desalination station to provide Aqaba with water, according to the ministry.
Related Articles
Apr 19,2016
AMMAN — The Ministry of Water and Irrigation has modified the final submission date of the prequalification proposals for the first phase of
Oct 26,2016
AMMAN — The winning bid to implement the first phase of the Red Sea-Dead Sea Water Conveyance Project (Red-Dead) will be announced in early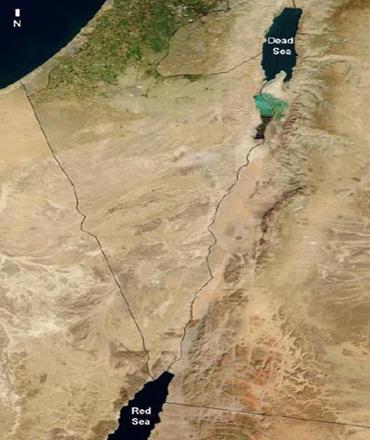 Dec 20,2015
AMMAN — The Water Ministry on Sunday signed the engineering services agreement for the first phase of the Red Sea-Dead Sea Water Conveyance