You are here
We are racing against time to salvage economy — King
By JT - Jun 30,2016 - Last updated at Jun 30,2016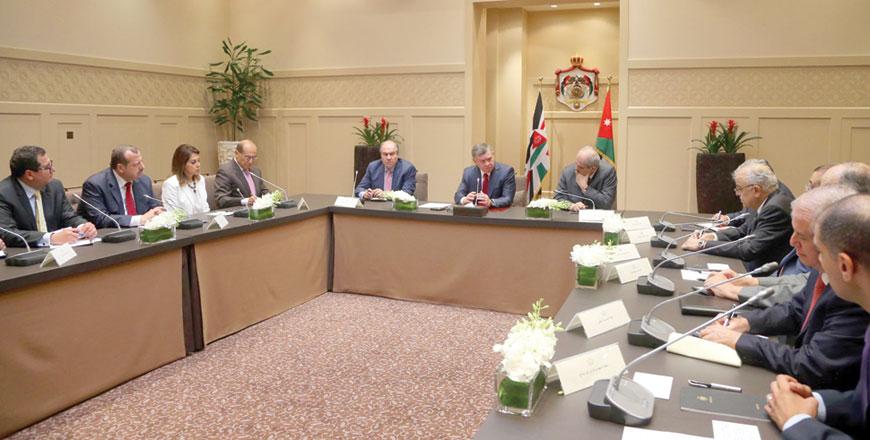 His Majesty King Abdullah chairs a meeting of the Economic Policies Council at Al Husseiniya Palace in Amman on Wednesday (Photo courtesy of Royal Court)
AMMAN – His Majesty King Abdullah on Wednesday stressed the important role of the Economic Policies Council in enhancing relations between the public and the private sectors through transparent and well-developed economic policies, the Jordan News Agency, Petra, reported.
Chairing a meeting of the council at Al Husseiniya Palace, His Majesty said that the time factor "will be against us if we do not seize the available opportunities. Therefore, we have to avoid procrastination and put solutions in place without any [hidden] agendas except serving people and combating poverty and unemployment. These are the interests of the people who are concerned with issues that matter to the country".
He stressed that he will not accept placing spokes in the wheel.
His Majesty asserted his support to the council's mission and the related government's endeavours.
For their part, the members of the council said it is important to help the private sector grow because that means more jobs for Jordanians, stressing that the state cannot undertake the job-creation task alone.
They also underlined the indispensability of a participatory approach in the economic decision making and integrity between financial, monetary, investment and labour policies.
The council also stressed the necessity of enhancing the capacity of the Social Security Corporation's Investment Fund to yield benefits to people and national economy.
Participants also discussed the negative impact of quickly changing economic legislation on investors, and that of clashing regulations, stressing the importance of the employees' knowledge of these regulations.
They went over the challenges that face the industry and trade sectors and options available to open new markets for the Jordanian products and ways to focus on small and medium-sized entrepreneurs.
Royal Court Chief Fayez Tarawneh, Deputy Prime Minister for Economic Affairs and Minister of Industry, Trade and Supply Jawad Anani and King's Office Director Jafar Hassan attended the meeting.
Related Articles
Aug 21,2014
Prime Minister Abdullah Ensour on Thursday said that Jordan's "2025 Vision" for the economy currently being prepared will be assessed every three years to take into account the region's unpredictability and global uncertainties.
Sep 16,2019
AMMAN — His Majesty King Abdullah on Monday urged young Jordanians to work hard and to engage positively in decision-making.At a meeting att
Jun 24,2019
KARAK — His Majesty King Abdullah on Sunday visited Karak and inaugurated the expansion of new sections at the southern governorate's public