You are here
Webinar discusses excavations in Decapolis city of Abila
By Saeb Rawashdeh - Oct 16,2021 - Last updated at Oct 16,2021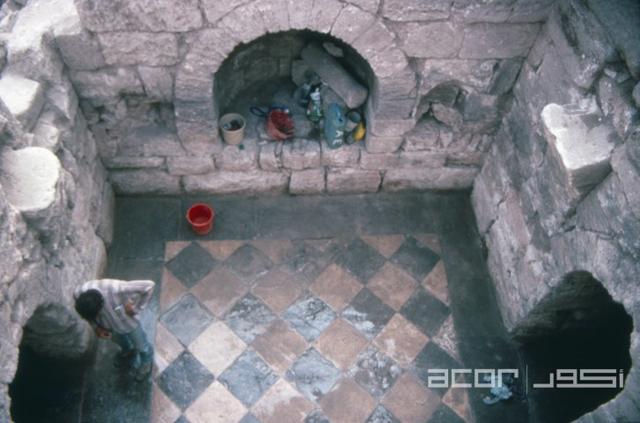 Mamluk Hall in Cave area, Abila (Photo courtesy of ACOR/ Bert de Vries Collection)
AMMAN — Next year will mark 42 years of excavations carried out at the archaeological site of Abila, also known as Tel Abila, which belonged to the Decapolis, the league of 10 ancient Greek cities in the southeastern Levant, according to a professor of historical theology.
The Decapolis cities are: Abila, Damascus, Dion, Gerasa, Gadara, Hippos Pella, Philadelphia, Raphana and Scythopolis, David Vila from John Brown University said.
Vila's remarks came during a webinar titled "EscavatingAbila: Past, Present and the Future".
The webinar was organised by the American Centre of Research last Tuesday.
Abila, located 20 km east of the Jordan Valley, is also home to five prominent churches built during the Byzantine period, Vila said.
"I've been working with the Abila Archaeological Project since 1990 and in 2013 the project was adopted by John Brown University from Arkansas," Vila said.
He added that in the first two seasons, the team was more focused on the surveying of the site.
Ninety- five per cent of shreds found at Abilaare dated to the 4th century AD to 6th century AD, Vila said, noting that this was the period of the site's "densest occupation".
Based on material evidence, there were several farmsteads, wine presses, olive presses, pens and water cisterns some two kilometres from the centre of Abila, which indicated that there was a suburban population during the Roman and Byzantine periods, the scholar noted.
"Population estimates at Abila's peak range from 10,000 to 15,000 inhabitants," Vila said.
In 1982, the team found a Byzantine basilica and in 1994 a life-size statue of the Greek goddess of hunting Artemis, indicating that there was a temple dedicated to her in the area, Vila said.
The scholar said that the church suffered catastrophic damage during the earthquake in 749 AD.
"Storage jars that dated from the Abbasid period [8th century AD-9th century AD] were found," Vila said.
In 2000, the team found another church structure on the southern part of the city, he noted.
A large building was also uncovered, and scholars speculated that it was a monastic complex, Vila said.
Thirty metres north of the monastic structure was discovered what might be an Islamic market around the road, he said.
"The excavation work we've done at Abila provides important comparative material for those who study Byzantine and early Islamic periods in Jordan," Vila concluded.
up
9 users have voted, including you.
Newsletter
Get top stories and blog posts emailed to you each day.