You are here
WFP brings MIT-developed 'food computer' technology to Jordan
By Lara Darwazah - May 01,2017 - Last updated at May 01,2017
AMMAN — If you walked onto the grounds of the World Food Programme's (WFP) country office in Amman last week, you would have been met with a team of innovators from the Massachusetts Institute of Technology (MIT).
You would have also been struck by a vibrant energy surrounding the young technicians, purposefully moving around WFP's outdoor meeting rooms to put together what looks like a machine that came out of a Sci-Fi movie.
Caleb Harper, director of the MIT Media Lab Open Agriculture, has created a computer that grows food using the hydroponic cultivation technique.
In a recent TED Talk, Harper explains how farmers are "slaves to climate". Instead, he proposes a future scenario in which each country could have its own productive climate to grow nutritious produce anywhere in the world, even out of season.
Project Manager at WFP's Innovation Accelerator, Federico Naccarato, recalls the beginning of their collaboration with MIT: "Since the moment we started the conversations with MIT on the Food Computer technology, we saw the potential of testing it in a humanitarian crisis context."
According to Naccarato, the aim of this collaboration between the WFP and MIT is to find the perfect way of growing crops in Jordan's climate, therefore enabling both Jordanian farmers and Syrian refugees to grow crops that would normally be impossible.
This is why the WFP Jordan country office decided to host this pilot and test this technology with the support of the WFP Innovation Accelerator — a creative, collaborative environment that invites the private sector, civil society and WFP entrepreneurs to tackle humanitarian and development challenges with the ultimate goal of a world with zero hunger.
Nina Schröder, also from the Innovation Accelerator explains the proposal: "Hydroponics is a soilless cultivation technique that enables plant growth in areas that are non-fertile, arid or urban with limited space. It saves resources and is very efficient; 70 per cent less water, a quarter of the space required and accelerated growth compared to traditional agriculture."
She adds: "Moreover, with the Food Computes, we can 'control' the environment, adapting it to the crops we are growing. For example, we can resemble climate conditions of southern Italy and manage to grow tasty tomatoes quickly and with minimal resources."
According to WFP's spokesperson in Jordan, Shaza Moghraby, this is the first time the technology will be used outside the US, reaching Jordan, adding that this project is relevant to Jordan due to the country's struggle with water scarcity and climate change.
"Jordan was a natural pick to launch such a breakthrough technology, being a country whose natural resources lie in its people. This technology contributes towards national efforts to position Jordan as a regional hub for innovative technology solutions," Moghraby said.
Meanwhile, in Mafraq's National Centre for Agricultural Research and Extension (NCARE), Mohammad Al Rifae, a Jordanian farming expert, is using the food computers to identify the crops that have the highest yield in a three to six months testing phase.
Rifae explains that scarcity and quality of water are pivotal in determining outdoor farming.
"There are challenging factors that come up when discussing farming in Jordan. The first is the scarcity of water, second is the levels of salinity in the soil and third the inaccessibility of electricity for farmers," he explained.
According to Rifae, farmers will need solar panels for the food computer to be utilised to its fullest potential, as many have no access to electricity, adding that this crucial energy requirement has been communicated to the team in the US and will be taken into account for the next planning phase.
The farming expert views the problem of salinisation as a window of opportunity, and is currently experimenting with different types of species able to withstand the salinity.
"Why salinity? We have good sources of that. There are 46 million cubic metres of this renewable resource in the country… Now we grow cactus, corn, quinoa, wheat and barley, as they are all able to withstand salinisation."
The digital farm and its incubating food computer bring to mind the film ''The Martian''. In the film's opening scenes, Matt Damon talks about a basic human need people have for one another in times of crises. Despite this being reality, perhaps the sentiment behind the invention echoes that of the film.
Caleb Harper learned the language of plants in order to assist people in need. His vision is to provide farmers with knowledge of food, rather than simply the product itself, to empower and connect people across the globe, enabling them to help themselves.
The writer is an education specialist who also blogs about culture and food (www.alifeonaplate.com). She has partnered with WFP to write a series of articles that explores the lives of vulnerable Jordanians and Syrian refugees through their food.
Related Articles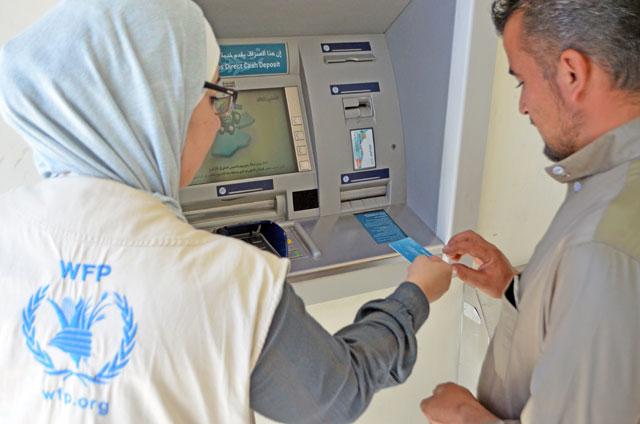 Dec 19,2017
AMMAN — Over 10,000 people in Azraq refugee camps are now able to pay for their food by means of entitlements recorded on a blockchain-based
Aug 07,2016
PARIS — While grain silos in many Western countries may overflow this winter, tens of millions of people risk going without food as hunger i
Feb 17,2015
The UN's World Food Programme (WFP) said Tuesday it would maintain operations in Yemen despite mounting insecurity which has forced the withdrawal of western diplomats from the troubled country.
Newsletter
Get top stories and blog posts emailed to you each day.