You are here
WFP training sets Mafraq residents on path to economic independence
By Muath Freij - Nov 20,2014 - Last updated at Nov 20,2014
MAFRAQ — The urgent need to help her family make ends meet encouraged Aliah Jaraidah to take part in a training course and start her own catering business.
The mother of five said she came to know about the training organised by the World Food Programme (WFP) from her neighbours and decided to participate.
"After I took cooking classes, I decided to open a small kitchen and start my own business," she told The Jordan Times late last week as she was preparing an order at her kitchen in the city of Mafraq, some 80km northeast of Amman.
Jaraidah is among 500 men and women who underwent a cash-for-training programme held by the WFP in cooperation with the National Alliance Against Hunger and Malnutrition, according to Faten Al Hindi, donor and private sector relations and communications officer at WFP.
She said the training is part of a WFP project that helps 160,000 people affected by the Syrian crisis in several parts of the Kingdom.
Hindi said they selected the target areas based on a government study, adding that the training focuses on several professions, including hair dressing and carpentry.
"We chose cities such as Mafraq, Zarqa, Irbid and Amman. In the second phase, we will cover new areas," the WFP official added.
"We already started the second phase that targets 1,000 trainees and will help 2,500 beneficiaries," she said.
The project started in December 2013 and was supposed to last for one year but organisers decided to expand it for another year.
"Around 300 of the 500 participants joined the workforce after the end of training," Hindi noted.
Sana Khawaldeh, a widow who participated in the WFP training, said she used to cook with her friends and distribute the meals to hospitals and schools.
"This course has helped me expand my business and further develop my skills," Khawaldeh added.
She has now set up a small kitchen where she works with six other women.
Jaraidah, who has teamed up with two women to start a catering business, said self-employment has its problems.
"We face difficulties in meeting the expenses of our business, so we bring all the ingredients and equipment from our houses," she noted.
The three partners at times end up paying the JD200 rent from their own pockets because they do not make enough profits.
Khawaldeh and her partners have similar problems.
"It is also difficult to promote our products," she said.
One of Khawaldeh's partners, 34-year-old Samia Hassan, said finding a venue is difficult because of the surge in rents due to the growing number of Syrian refugees in Mafraq.
But the mother of five insists on remaining optimistic, voicing hope that the business will grow and attract more clients in the future.
"I hope that we will have a big kitchen with high standards so that we can cook traditional Jordanian dishes and popular Western meals."
Related Articles
Oct 23,2014
By the age of 30, Ruwaidah had already experienced a divorce, the regret of being a high school drop out, and the success of having started from scratch to running her own catering business.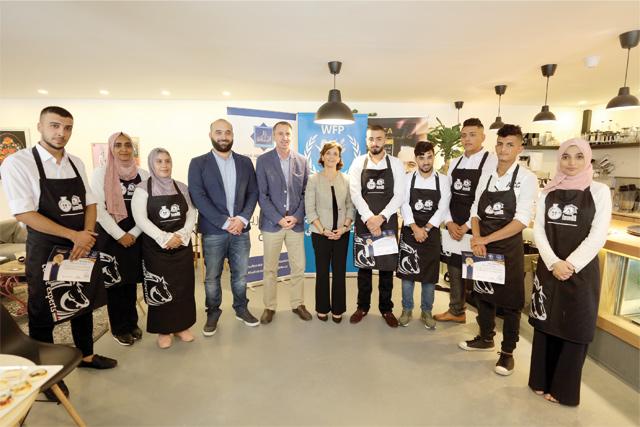 Oct 04,2019
AMMAN — A graduation ceremony was held in Amman on Thursday for nine young men and women who successfully completed a barista (coffee-making
Aug 30,2023
AMMAN — Her Majesty Queen Rania visited Firyal Kofahi's home-based kitchen in Irbid's Hawar village on Wednesday as part of her efforts to s